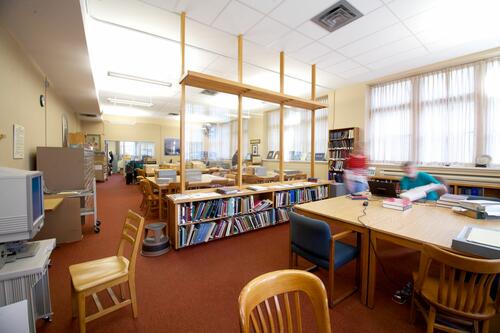 Queen's University Archives is open to the public Monday to Friday year round (except for the period from Christmas to New Year's). Facilities and services include a public reading room, research consultation services, research retrieval and reprographic service. We welcome you to visit us at Kathleen Ryan Hall.
History
A long archival tradition exists at Queen's University. The first archival document was presented to Queen's in 1869. Collections were held in the University Library and in 1960, the first Archivist was appointed. By 1981, the Archives had grown to become a separate administrative unit, with some 3,500 metres of holdings. Through the generosity of Mrs. Kathleen Ryan and the Queen's Quest, the New Medical Building, built in 1907, was renovated and made available for Queen's Archives in 1981. The present facilities include spacious public areas for consultation and research, a modern conservation lab, an archival records processing area and large storage vaults.
The Archives has continued to expand its holdings over the past decades. Today, the Archives houses approximately 10 kilometres of textual records, 2 million photographs, tens of thousands of architectural plans and drawings, and thousands of sound recordings and moving images.
Values
Queen's University Archives adheres to a set of values to foster an environment of excellence by:
Ensuring a professional environment governed by applicable codes of ethics and standards;
Maintaining administrative and intellectual control of the records in order to facilitate access and compliance with relevant legislation;
Sustaining a safe and secure environment for the records;
Offering efficient, equal, and exemplary service to stakeholders;
Providing archival, records management, and conservation expertise to the University and greater community.