The foundations of Queen's Radio were laid in the spring of 1902, when the first Professor of General Engineering in the Kingston School of Mining, James Lester Willis Gill, gave a remarkable demonstration of wireless telegraphy at Queen's Convocation. Gill began formal teaching of wireless technology a decade later, did experiments on campus and, by the First World War Queen's wireless telegraphs were licensed and used in training army signallers at the Barriefield War Camp just outside of Kingston. This photo was taken by Harold Reid, who used Gill's equipment to teach soldiers at the camp.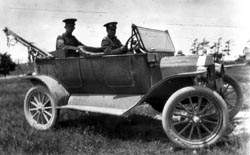 Queen's wireless telegraph in automobile at Barriefield War Camp, 1916
(Library and Archives Canada, PA110442)
Professor Gill founded the Wireless Club at Queen's, with war surplus equipment, when he  returned from the war in the fall of 1919. An antenna wire strung between the Old Arts and New Arts buildings (Theological Hall and Kingston Hall) can be detected in this 1919 aerial photo. Fleming Hall, with its sloped roof prior to the 1933 fire, is in the center of the photo.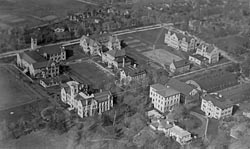 Aerial view of Queen's University by Bishop-Barker, 1919
(Queen's Picture Collection V28 Gen-17)
Harold Reid (later the Rev. Dr. W. Harold Reid) who had taught wireless telegraph signalling at Barriefield, came to Queen's to register as a student in Arts in early 1920, and spotted the antenna wire. He followed it to meet Gill's successor, Prof. E.W. Henderson, who was having trouble wiring up the new De Forest receiving set for the Queen's Wireless Club.
Reid assisted him and gave four lectures on the principles of wireless telegraphy to the Wireless Club. Some of the students to whom he lectured were soon to be involved as the co-founders and equipment builders of the Queen's radio broadcasting station in the spring and summer of 1922.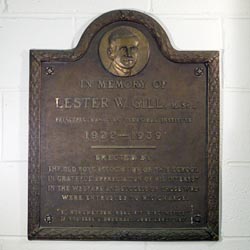 Plaque dedicated to Lester Gill by Hamilton Technical Institute
(Preserved at CFRC)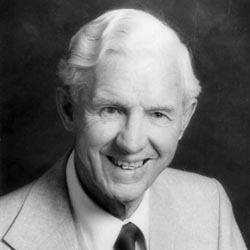 Rev. Dr. W. Harold Reid
The 2012 photos below show Fleming Hall, one of the early engineering buildings on Queen's campus. Carruthers Hall is in the background.
In late spring 1922, two young professors, Robert L. Davis and Douglas M. Jemmett, designed and built an experimental wireless telephone set, or AM radio transmitter, in the basement of Fleming Hall and soon obtained an experimental license with the call 9BT. The idea was that this new technology would allow members of the Wireless Club who were interested in voice transmission to broadcast Queen's sporting events, experimental live concerts and convocations across all of Ontario, joining in on the coming popular boom in public broadcasting.
To hear Prof. Jemmett's personal recollection of this process, play this audio clip recorded in 1962.
Some time in the late summer or early autumn of 1922, 9BT aired an experimental broadcast of Queen's Bands member George Parsons playing "The Bluebells of Scotland" on his cornet. This description of the first experimental broadcast, as told by Prof. Harold Stewart, is an excerpt from Dr. Arthur Zimmerman's 1983 documentary "The Queen's Radio Oral History Project". 
On October 7, 1922, 9BT made its first and only official broadcast, which was a post-game summary of a Queen's Tricolor-Hamilton Rowing Club exhibition football game. The quality of the first broadcasts was quite poor and that inspired a Queen's alumnus to contribute $500 to purchase a motor generator set to significantly upgrade the broadcast signal. With its newly-assigned call letters CFRC, the station aired its first significant broadcast on October 27, 1923. On that date, Prof. Richard Joliffe of the Classics Department announced the complete play-by-play of a Queen's-McGill football game from the old Richardson Stadium. His students feared that he might call the game in Latin. Prof. Stewart's description where the broadcast was heard, and Prof. Jolliffe's son's recollection of his father's contribution, are included in this audio clip.
Harold Stewart is seen as a graduate student in this photo circa 1929, in front of the transmitter rebuilt in 1927 by lecturer Douglas Geiger, who had been involved as a student in establishing 9BT.  The transmitter log book is seen on on the table.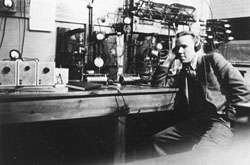 Harold Stewart, ca. 1929 (Queen's Picture Collection V28-O-CFRC-2)
The original handwritten CFRC log book, beginning with the very first broadcast as CFRC in 1923, through 1932, is available to view at the Queen's Archives in Kathleen Ryan Hall. This old laboratory notebook contains a record of all of the station's early broadcasts and its distant reception reports.  The transmitter log pages below, from January 1924 and October 1925, show the emphasis on sports broadcasts, including Queen's vs. the Canadian Olympic hockey team. The transmitter logs talk about the power in the antenna for each broadcast and list the places where each broadcast was received. They were obviously playing with the transmitter and its output power, trying to achieve distance on their 100 watts. The 1925 log includes signing on at 11 P.M. on October 30th, to broadcast a piano solo by CFRC operator and intercollegiate wrestler George Ketiladze, who later appeared on Broadway.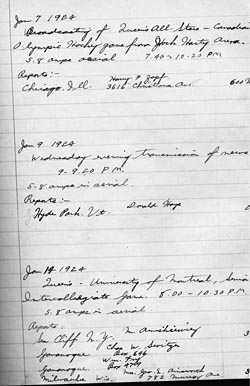 Programme Log, January 1924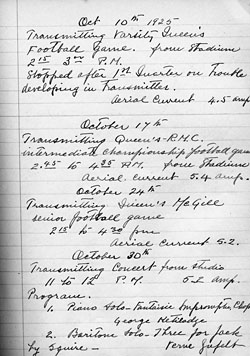 Football Log, 1925
in 1924, when the young Kathleen Whitton was brought into the station, at that time still in the basement of Fleming Hall, by her future husband Frank Ryan, she was told firmly that girls were not allowed to listen-in on the station's headphones and could not speak into the microphone because the carrier waves wouldn't take girls' shrill voices.
This variable inductance coil was part of the DeForest radio receiver seen by Kathleen Whitton in 1924, now preserved in the Queen's Archives collection. The photo below shows the device on display in Douglas Library as part of CFRC's 90th Anniversary celebrations in 2012.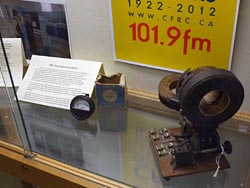 Variable inductance coil
Prof. Jemmett used to say that CFRC stood for "Canada's Famous Rugby Champions", but the student engineer broadcasters preferred "Crazy Fellows Raising Cain". In fact, the call letters were chosen arbitrarily by the Department of Marine and Fisheries, the "CF" assigned internationally to Canada and the rest meaning nothing in particular. Through the rest of the 1920s, CFRC remained a sporadic broadcaster, and only during the school year. For that decade, CFRC was on the air for a few hours a week, broadcasting Queen's football, hockey (including women's hockey) and basketball games, alongside the occasional extension lecture, Queen's convocation ceremonies and a few experimental concerts from its then makeshift studio.
CFRC also broadcast summaries of the Ontario provincial election returns, Dec. 1, 1926, news supplied by the newly amalgamated Kingston Whig-Standard. This first non-sporting event from outside Queen's brought CFRC to greater public attention and, consequently, station members became increasingly interested in promoting local and regional interests beyond the Queen's campus.
---