Following extensive discussions with the Alma Mater Society from October 2011 through the fall of 2012, the AMS and Radio Queen's University (RQU) signed an agreement to transfer control of CFRC operations to the latter as RQU entered its 90th year of broadcasting. The Agreement ensured that RQU could continue to staff the station, to maintain its organizational stability and autonomy, and to fulfill its mandatory CRTC regulatory requirements.
By 2013, RQU faced significant financial challenges because the anticipated separation would end the AMS's subsidies to CFRC that supported station operations including staffing.  To prepare for this new financial reality, RQU initiated several plans to ensure the station's financial stability, including staff restructuring, while student volunteers engaged in an active, sustained campaign to increase CFRC's mandatory student fee to offset the loss of AMS subsidization.  Highlighting CFRC's historic contributions to campus life and the platforms it provides for individuals and student groups to connect with the campus and Kingston communities, student organizers succeeded in winning a mandatory AMS student fee increase from $5.07 to $7.50 in the winter of 2014.
While Radio Queen's University navigated total separation from the AMS in 2014 amidst its restructuring, it also renewed its CRTC broadcasting licence until 2021.  Ahead of this renewal, RQU's Board also restructured itself to meet representative standards outlined in CRTC regulations for campus radio stations, increasing representation from students and from Queen's University.  RQU further established with the CRTC the station's record of local artistic talent development, and its engagement in collaborative community-focused projects such as Speaking Stones and The Swamp Ward & Inner Harbour History Project, both of which concerned Kingston's social and social-justice history.
CFRC's community-facing programming continued beyond its license renewal.  In 2015, the station hosted the 17th Annual Homelessness Marathon, a 15-hour takeover of community radio airwaves nationwide, which broadcast the stories of homeless people, from their perspectives, to raise awareness about poverty and housing insecurity in Canada.  Fourteen other stations across Canada also contributed to this project undertaken in partnership with Martha's Table and the Kingston Street Mission.

Breanna Owen on running the 17th Annual Homelessness Marathon
The membership of Queen's Society of Graduate and Professional Students (SGPS) approved CFRC's $7.50 mandatory fee in Winter 2016, though later that year, the SGPS restructured its fee slate.  This restructuring converted CFRC's mandatory fee to an optional one, which made it subject to a further referendum in 2019.  Matthew Bisson, who overtook the Station Manager position from Kristiana Clemens in May 2016, noted that in spite of the loss of eligibility for SGPS mandatory fees, station engagement with SGPS members also began to grow, particularly following the launch of 'Grad Chat,' a weekly graduate research focused program produced in collaboration with the School of Graduate Studies. CFRC's $7.50 optional fee was subsequently approved in both the 2019 and 2022 SGPS referenda.
CFRC's library management system also underwent significant improvements beginning in 2016 in order to facilitate volunteers' knowledge of the richness and depth of the station's collections.  Work began with cataloguing CFRC's 44,000 vinyl LPs. Cameron Willis, then the station's Music Librarian, collaborated with a volunteer from Queen's University to establish a digital logging system, allowing volunteers to submit their required broadcasting reports online and move away from paper log sheets.  The process further streamlined mandatory station reporting requirements to entities such as the CRTC and SOCAN.
Dinah Jansen overtook the Station Manager role from Matthew Bisson following his departure in Summer 2017.  Soon after, CFRC replaced its failing 30-year-old AEG Bayly Telefunken FM transmitter with a Nautel VS1 unit at its tower site in Kingston Mills. By summer 2018, CFRC also launched a new podcast network, a project spearheaded by volunteer Matthew Shepherd in cooperation with the Faculty of Engineering and Applied Science.  Community members as well as Queen's students, staff and faculty continue to use CFRC's podcasting services, alongside the broadcast airwaves, to reach new audiences with innovative, informative on-demand spoken word content.
In mid- 2018, the Ontario Government implemented the Student Choice Initiative (SCI), eliminating mandatory fees for CFRC from the AMS student membership, the revenues from which made up about 80% of the station's budget at the time.  Though the SCI was eventually thrown out in court, when CFRC put its question to continue its mandatory fee forward for triennial review in the 2020 AMS referendum, a differently-worded question appeared on the ballot causing the fee to fall short of approval. Following a successful appeal, however, CFRC secured an optional fee of $8.22 in a March 2020 by-election a week after Queen's University's campus emptied with the onset of the coronavirus.
In spite of the challenges COVID-19 presented, CFRC continued to flourish through the pandemic.  While many volunteers learned to pre-record their programs from home during the lockdowns, others continued to do live programming while staff continued to recruit and train new volunteers among the student base.  Furthermore, throughout the first year of the pandemic, CFRC launched innovative, entertaining programming to keep listeners near and far both informed and entertained through the production of programs including Radio Pandemic, Grad Club Trivia, Stories for Young Listeners and the launch of the first Shortwave Radio Theatre Festival featuring radio theatre plays written, performed, directed and produced by campus and local artists.
CFRC also further developed its local news programming.  With funding from the Queen's work-study program, Canada Summer Jobs, and the Community Radio Fund of Canada, CFRC has increased its programming to cover news and issues of campus and local interest, including a funded documentary series focusing on issues including current housing, food insecurity and opioid crises in the region.
The audio Clip below features audio from Ana Williams-Bergen's conversation with Erin Leblanc, co-host of CFRC's Gender Talk.  Leblanc discusses diversity in CFRC's on-air programming and the station's importance in the community.
 

Erin Leblanc, Gender Talk co-host, discussing CFRC's diverse programming

Matthew Bisson on CFRC's resilience
As 2022 began, having acclimatized well to an environment of optional rather than mandatory fee levies, CFRC 101.9 FM was in a stable financial position thanks to the continued support of its donors and the student body at Queen's.  The station continues to nurture close collaborative relationships with community and campus partners while strengthening its role in news production and its support of local artists with robust participation in these endeavours from students and community member alike.
Celebrating its 100th anniversary in 2022, as one of the world's longest-running broadcasters while reaching 29,000 weekly listeners locally and worldwide through its webstream, CFRC has marked the occasion with a number of signature centennial events including hosting the National Community Radio Association Conference in June 2022.  CFRC Alumna Shelagh Rogers attended the conference Gala event to engage in a keynote conversation about her time with CFRC and her career path since.  Rogers also presented longtime CFRC volunteer David Cunningham with the first ever CFRC Lifetime Award.
The first audio file below captures the keynote conversation between Shelagh Rogers and Dinah Jansen on June 3rd 2022 on stage at the Isabel Bader Centre for the Performing Arts.

Dinah Jansen in conversation with Shelagh Rogers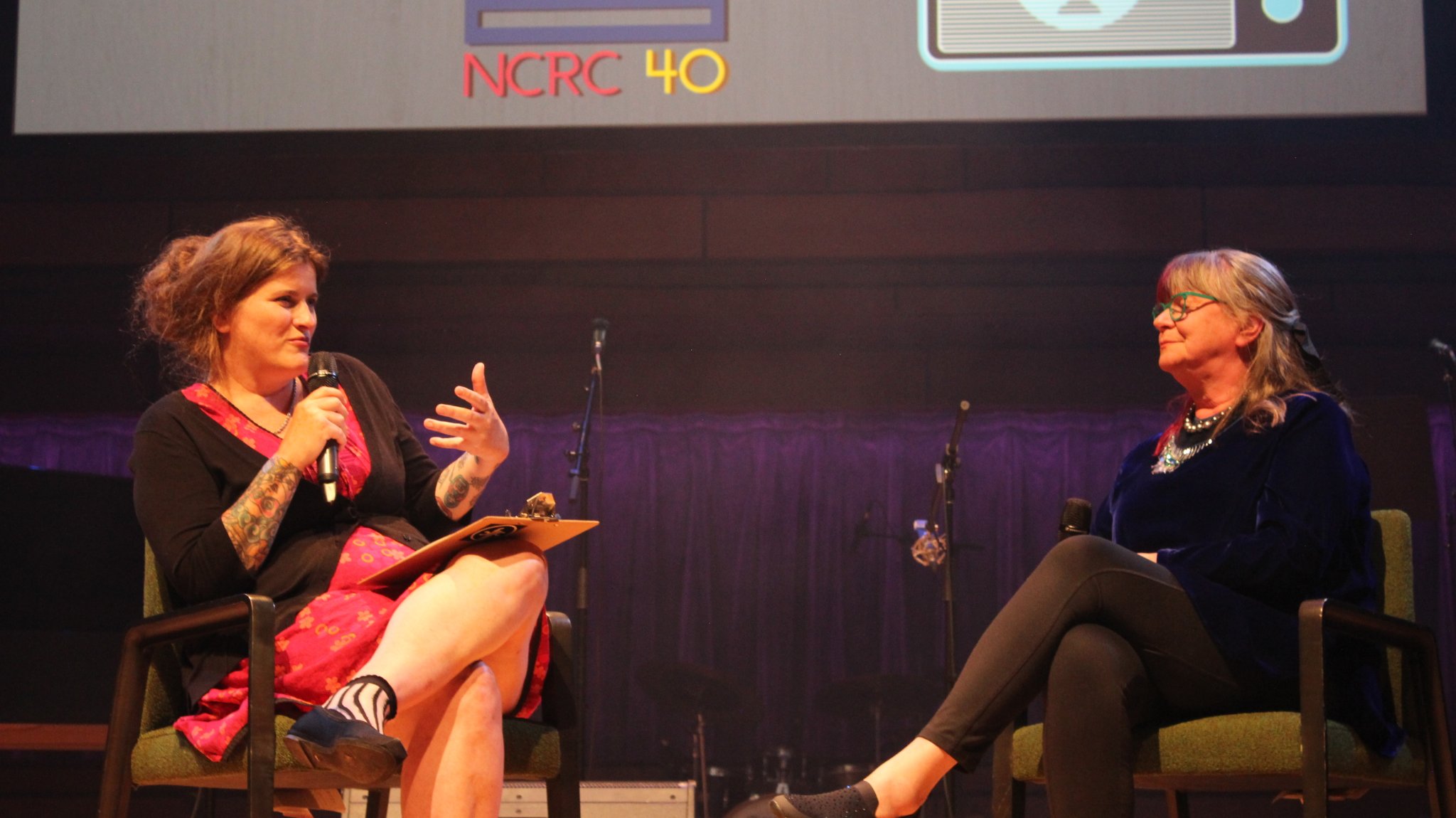 Dinah Jansen in conversation with Shelagh Rogers
The second clip contains audio of Rogers' presentation of the Lifetime Achievement Award, his acceptance, and their respective comments on the importance of campus and community radio.

Shelagh Rogers presentation to David Cunningham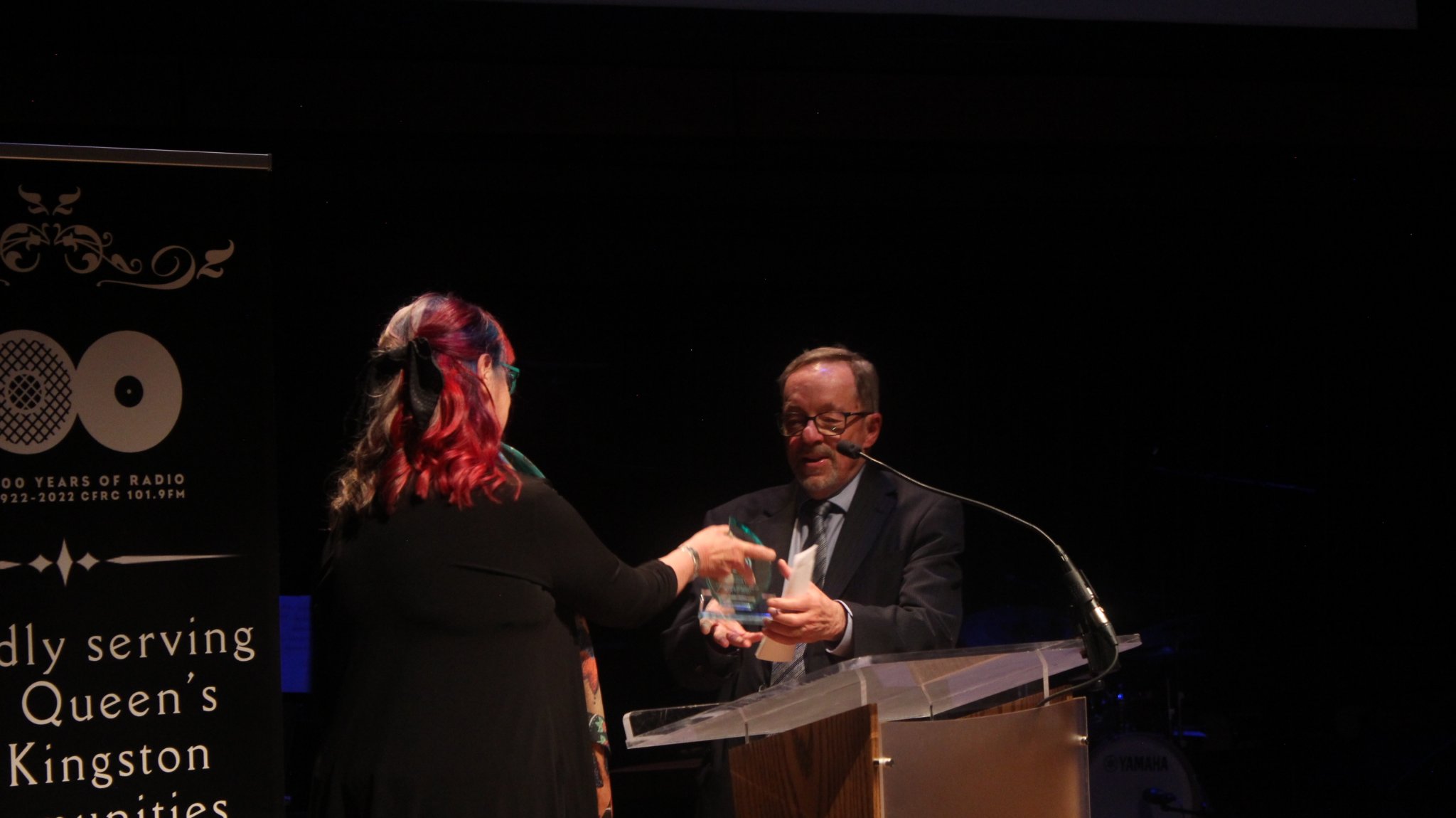 Shelagh Rogers presenting award to David Cunningham
Leading up to CFRC's centennial celebrations in Fall 2022, CFRC staff and volunteers undertook a number of other celebratory projects including the creation of a new radio series called Centennial Spotlight featuring retro music and conversations with CFRC alumni.  CFRC also worked with Queen's University to secure a commemorative plaque, to enable pop up exhibits of CFRC artefacts stored in the Queen's Archives, to develop a feature story in the Fall 2022 edition of Alumni Review, and to welcome home Queen's Alumni over Homecoming Weekend.
Below is a photo of CFRC alumni Matthew Shepherd & Marisa Sandlin broadcasting live in studio in 2022. They were programming a special episode of their retired program, Waffles, for the Centennial Spotlight series.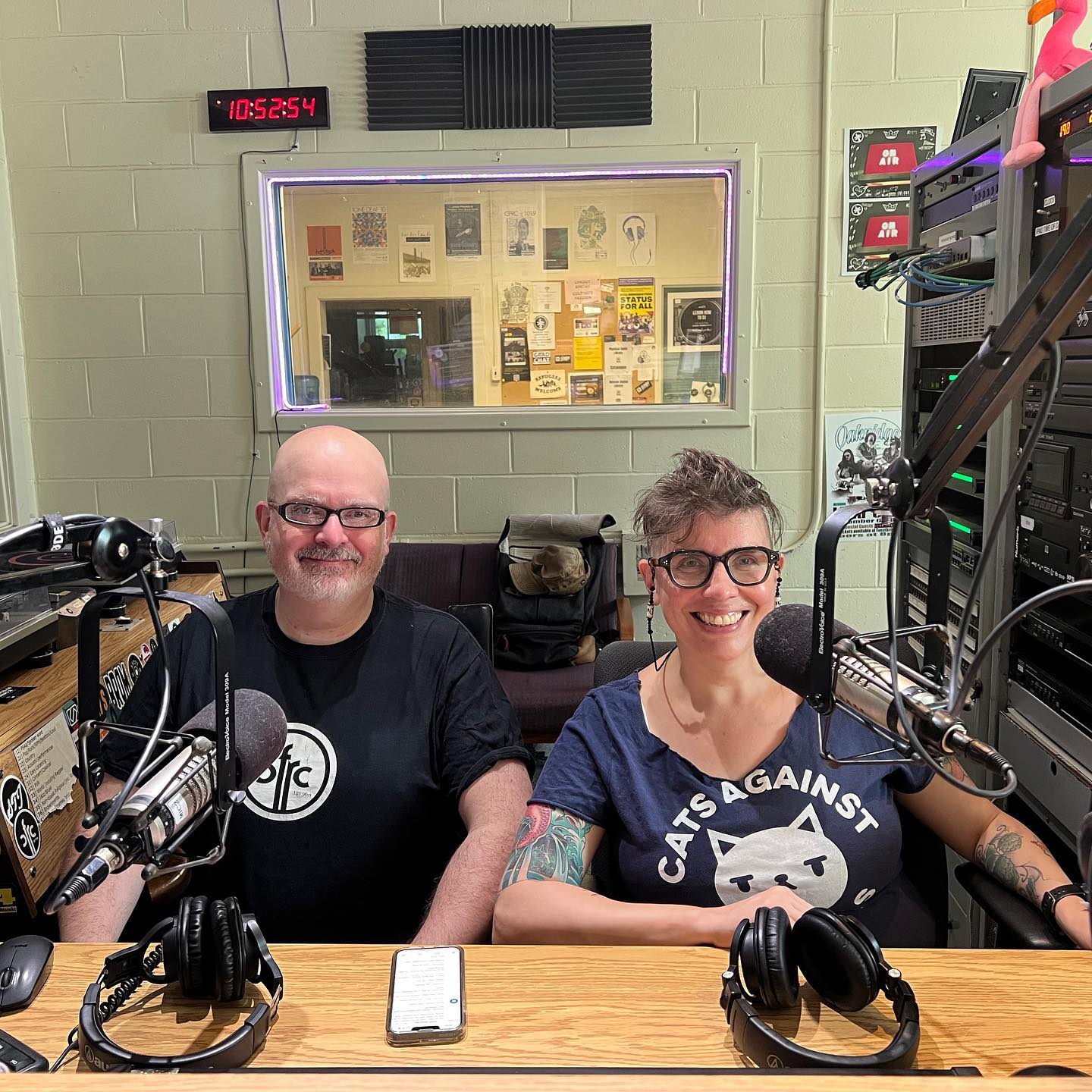 Matt Shepherd and Marisa Sandlin in the studio
Alongside these celebrations in 2022, CFRC renovated it main recording studio and upgraded the 30+ year old Audio Arts console mixer with a new, state of the art Wheatstone system, funded through the generous support of its Annual Funding Drive Donors.  The station also adopted a new Strategic Plan with heavier focus on revenue generation and relationship-building; launched its first full-time local news desk position through the federally-funded Local Journalism Initiative; and also launched the second Shortwave Theatre Festival featuring radio dramas produced by campus and community members. Further, the station secured several large grants, one of which allowed the station to begin to build an entirely new, accessible and mobile-friendly website.  Finally, after two years of administrative license renewal, the station also began the process of renewing its CRTC broadcasting license expiring in 2023.
Proudly broadcasting since 1922, CFRC moves forward into its second century through the support of students, Queen's and community, as well as alumni worldwide.  Its volunteers continue to benefit from opportunities to engage in and develop self-expression and community-building while expanding their range of interests, talents, and translatable job skills. Many more wonderful projects lay ahead for CFRC and it continues to welcome participation from all members of its community near and far.
CFRC has grown far from its early roots as an experiment on a lab bench in the basement of Fleming Hall. With over 100 Queen's students making up more than half the station's active volunteer base, CFRC has among the highest levels of student involvement for a campus station in Canada.  It provides national and international outreach for Queen's, with an internet and mobile device-based audience including many Queen's alumni.
CFRC is also Kingston's only community radio station, a not-for-profit media outlet that provides music, arts and spoken word programming not broadcast elsewhere in the city.  "Queen's Radio" also remains a crucial and positive hub for  Queen's University and the broader Kingston community's communications, interactions, and collaborations.

Rico Garcia and Ana Bergen-Williams on CFRC in the community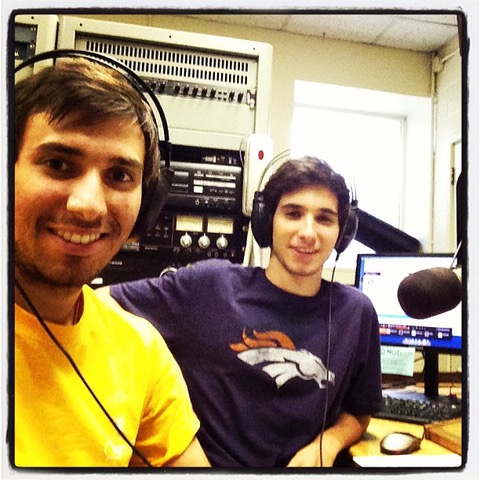 Rico and Max Garcia in the studio
With 100 community volunteers and 29,000 weekly listeners in the Kingston area, CFRC arguably has even greater impact off campus than on it. Community commitment to and investment in CFRC's programming is substantiated by the station's annual Funding Drive, which typically raises roughly $25,000 a year in listener donations. Funds raised remain crucial to staffing the station, paying for new equipment and supporting numerous projects that challenge, inform, and inspire its audiences.
CFRC has never turned a large monetary profit, except perhaps in the short-lived commercial period with the Whig-Standard. But it has supplied incalculable benefits to Queen's and Kingston community members in developing self-expression and culture, expanding their range of interests and talents, building self-confidence, developing research and production skills and confidence, and developing writing and public speaking abilities.  Many careers in broadcasting and communication began at CFRC over the past 100 years and CFRC is proud to continue offering these opportunities thanks to the support of campus and community members.
Please visit CFRC's website at cfrc.ca to learn more about volunteering, the programming we offer, and how to donate.
Below is a spring 2022 photo of cheerful CFRC staff and volunteers boothing the station's first in-person community event in over two years following the coronavirus pandemic.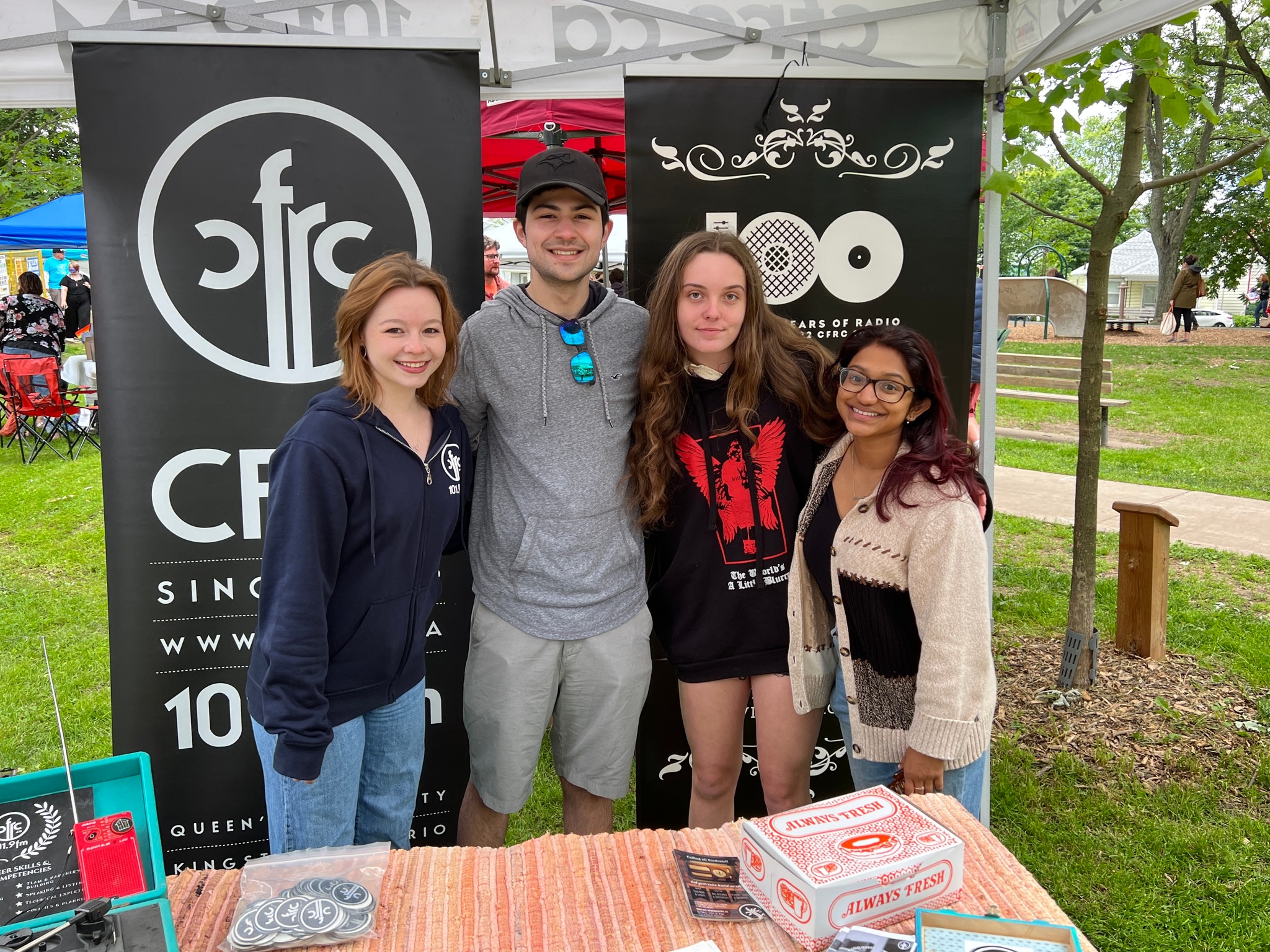 CFRC Volunteers and Staff
---