There is a wealth of information to be found among the records of the City of Kingston, Queen's University, and the private papers of individuals in relation to the many visits of royalty to Kingston. Why is this?
For the City and the University, playing host, or playing any part in the visit requires extensive planning, preparation and tight execution. These activities result in a documentary trail, consisting of correspondence between all the players, memos and minutes outlining all of the details, and agendas highlighting who needed to be where at a specific time.
For the individuals, often it is simply their presence that results in the creation and collection of souvenirs of such momentous occasions, captured in photographs, clipping news items or keeping programmes and invitations. Or some of these individuals may have played some part, perhaps as members of the Press or various planning committees. Regardless their active or passive role, the documents they created and kept serve researchers well beyond their original use.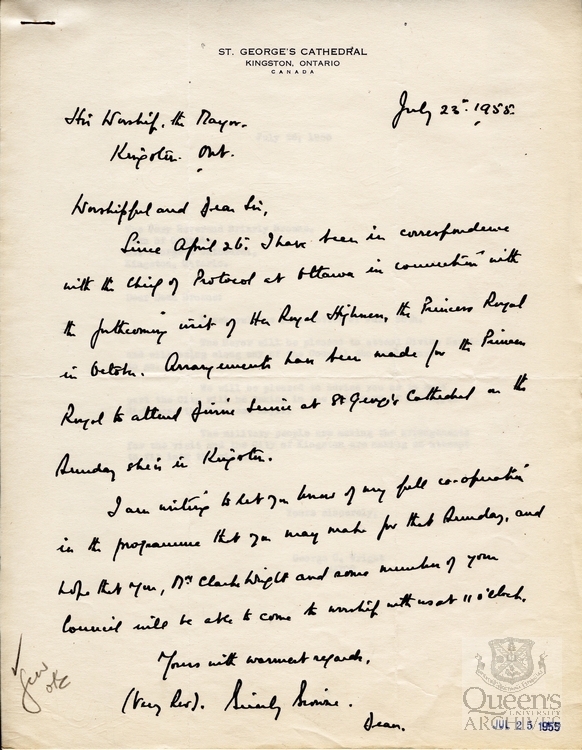 City of Kingston Archives. City Clerk's fonds.
Letter from the Very Reverend Briarly Browne to Mayor George C. Wright, 23 July 1955
Location 4/100.11, Box 28, 19-6 Royal Visit 1955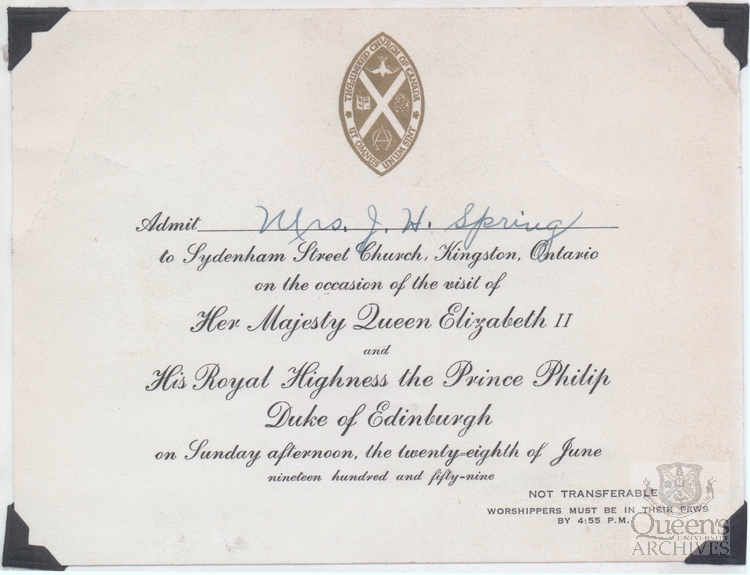 Herbert Clarence Burleigh fonds, H.S. Spring sous-fonds.
Invitation, 1959
Location 2324, Box 44, File 25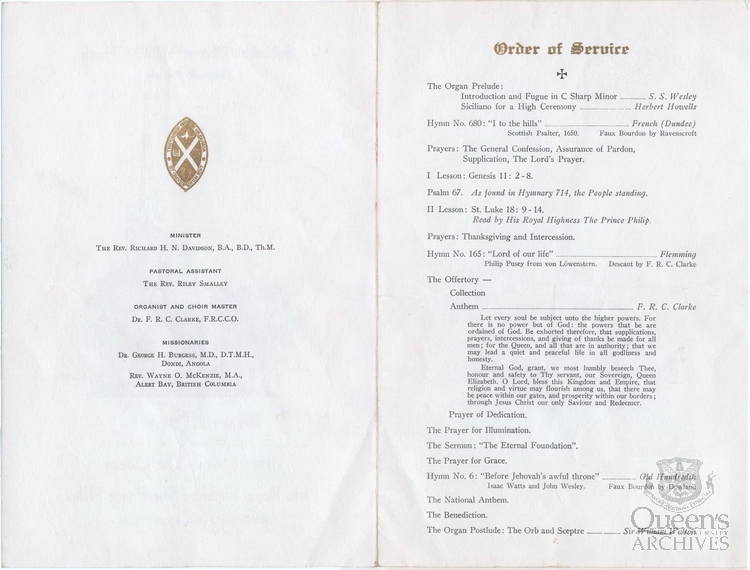 Herbert Clarence Burleigh fonds, H.S. Spring sous-fonds.
Order of Service, 1959
Location 2324, Box 44, File 25
Kingston Picture Collection
Wallace R. Berry, photographer
Visit of Queen Elizabeth II, June 1973
V23-Vis-14
As an official record of the history of Queen's University, the Domesday Book has also served as a register of the institution's many distinguished visitors.  This page appears to have been reserved just for the Royal visitors to Queen's, bearing the signatures of Prince George (later King George V) and Victoria Mary; Edward, Prince of Wales (later King Edward VIII); and Mary, Princess Royal.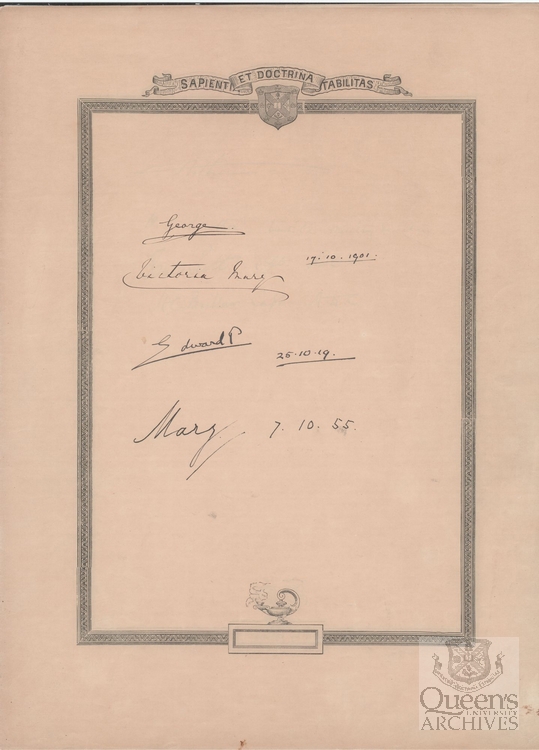 Queen's University. University Secretariat fonds.
Domesday signatures
Location 1189, Box 3, File 1
City of Kingston Archives.
Distinguished Visitors Book of the Corporation of the City of Kingston, 1951-1989
City of Kingston Archives. City Clerk's fonds.
Menu, 27 June 1973
Location 4/100.11, Box 28, 19-6 Royal Visit-Dinner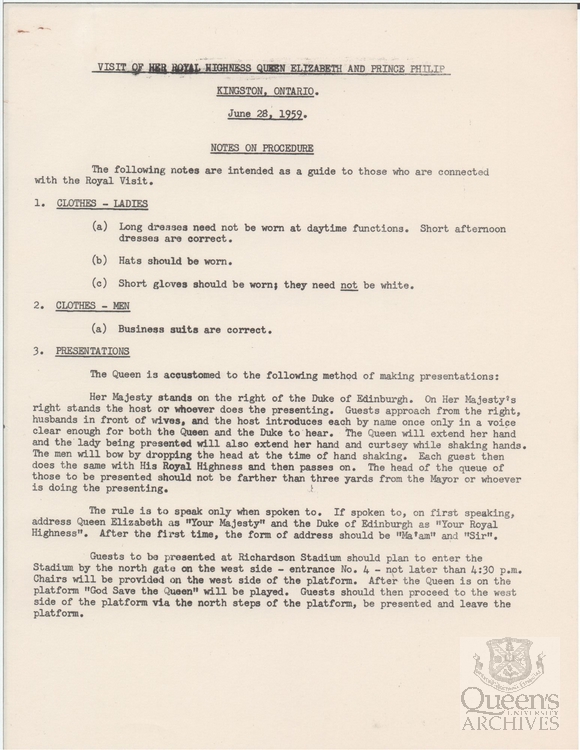 City of Kingston Archives. City Clerk's fonds.
Visit of Her Royal Highness Queen Elizabeth and Prince Philip,
Notes on Procedure, 28 June 1959
Location 4/100.11, Box 28, 19-6 Royal Visit 1959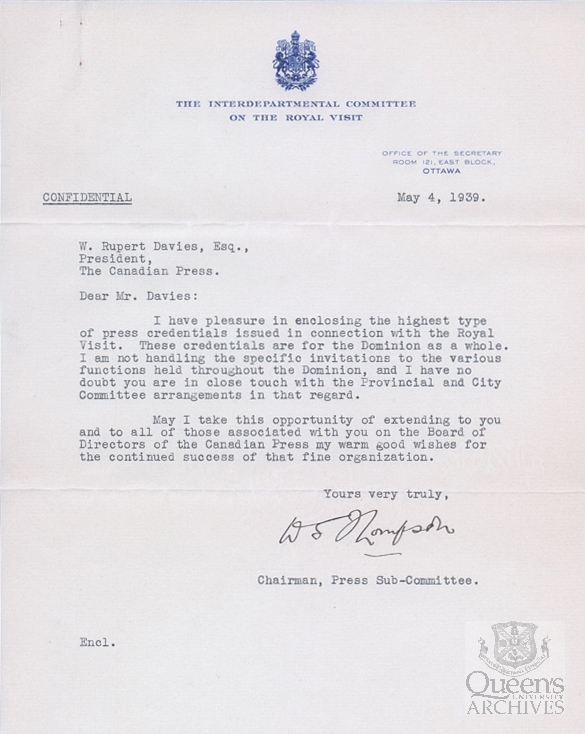 Davies family fonds
Royal visit identification card
Location 5118, Box 1, File 45
---