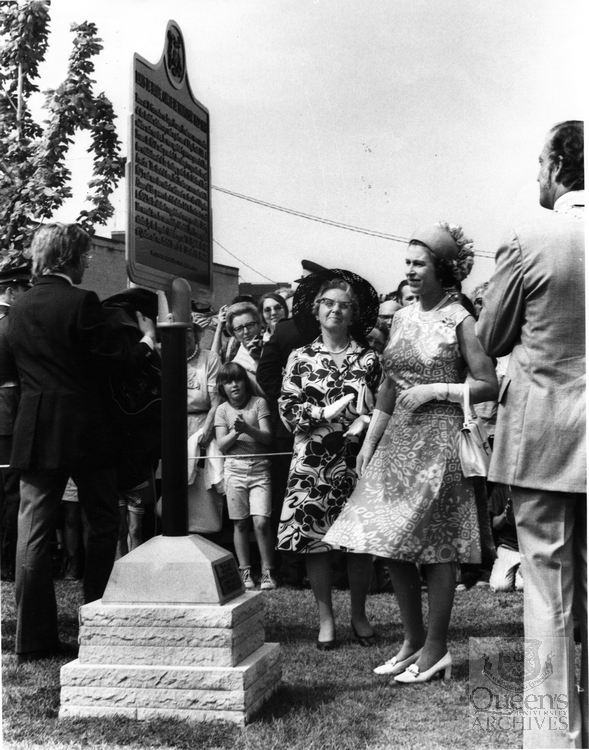 Kingston Picture Collection
Wm. (Bill) Baird, photographer.
Queen Elizabeth II , 27 July 1973
V23-Vis-7
Each Royal visit has been marked by some display of admiration for the Royal family and what it is seen to represent.  For some, it is a chance to catch a glimpse of celebrity (and before television and movies, royalty was the celebrity of the day); for others, it is an opportunity to show their patriotism in its relation with the Empire, or nowadays, the Commonwealth.
Imperial Order Daughters of the Empire. Victory Chapter fonds.
Scrapbook
Location 3093.1, Box 1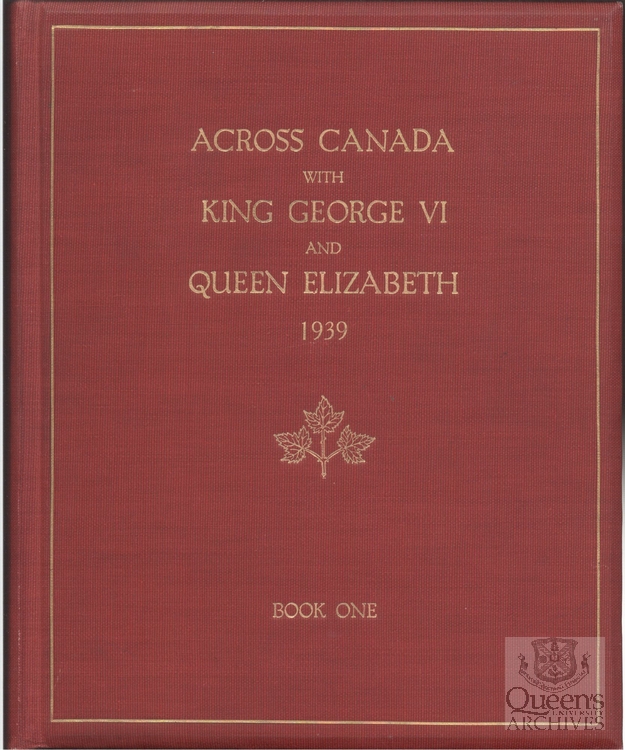 Royal Trip collection.
Across Canada with King George VI and Queen Elizabeth, 1939
Location 3112, Vol. 1
Queen's Journal
Vol. 199, No. 18 (29 Oct. 1991), pp. 1 and 7
For all the show of support for visiting royalty, there are occasionally some detractors as well.  Certainly, the level of opposition to the monarchy in Canada seems relatively quiet when compared with places like Australia, where republican sentiment seems to have gained greater popularity.  Instead, opposition seems more motivated by distaste for the privilege enjoyed by the royal line, or for historical injustices, such as seen in this article from the Kingston Whig-Standard from 29 October 1991:
Prince Charles and Diana, Princess of Wales, are "parasitic scum living off the taxes" charged protestor Dan Moore, 18, as two separate groups of protesters added a small, bitter taste to the royal visit.
Diana's review and reception at the Princess of Wales' Own Regiment armories on Montreal Street was a key event in the royal visit to Kingston.
Half a block away at Princess and Montreal streets, Mr. Moore wore a bandanna over his lower face and waved a large black flag at traffic. He was surrounded by 20 members of the Eight-Ball Justice Collective and a small group of Mohawks.
Only 100 feet from the spot where the princess and her regiment met, a group of 18 natives and their supporters took over a second- storey roof with banners and a two-storey sign protesting "500 years of suffering at the hands of the white oppressor."
Fran Sugar, who is from the Cree Territory in Saskatchewan, said it was disrespectful for organizers not to include aboriginal representatives in the meetings. "This is Mohawk territory."
Protester Steve Olivier said the Mohawks had to move to this area after they supported the British in the American revolution. They argued that they should have been included directly in the royal visit because of the historical treaties signed by the Crown, and the contemporary importance of native issues.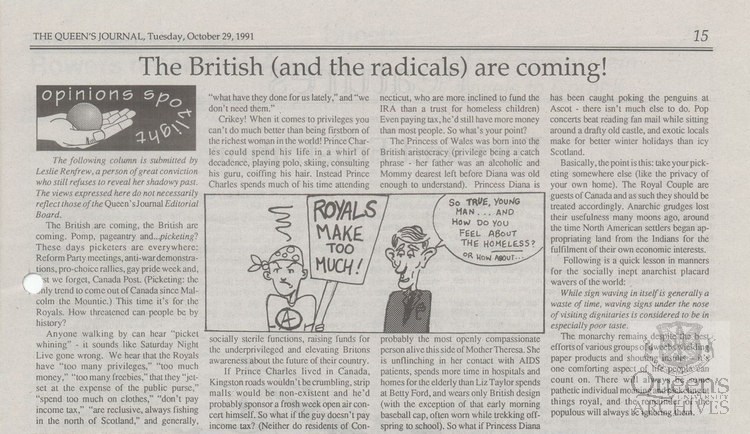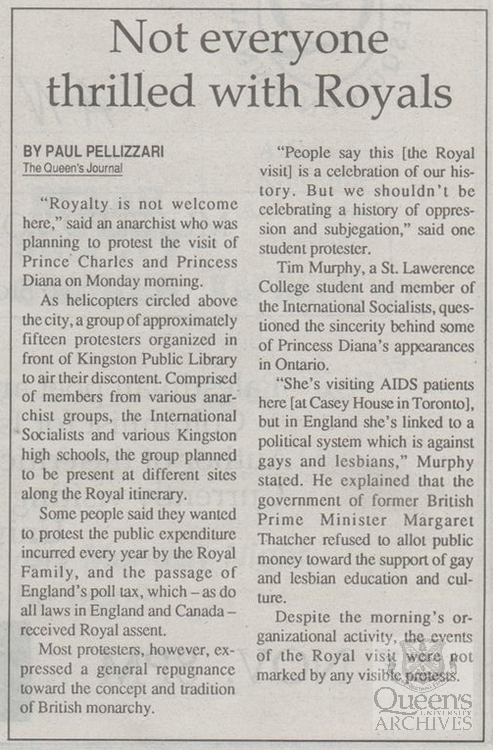 Queen's Journal
Vol. 199, No. 18 (29 Oct. 1991), pp. 15 and 3
Sometimes, the fallout from a Royal visit can be as simple as the politics surrounding the organization of the event.  This article from Kingston This Weekend shows just how feathers can be ruffled by poor communication.\
Kingston This Weekend
Province's 'snub' ires Mayor
Vol. 3, No. 43, 2 November 1991
---