After three weeks of successful testing in January 1990, the Department of Communications and the CRTC granted CFRC the use of 101.9 MHz. After 25 years and $125,000 raised for the equipment, CFRC would finally "Go Stereo" on FM.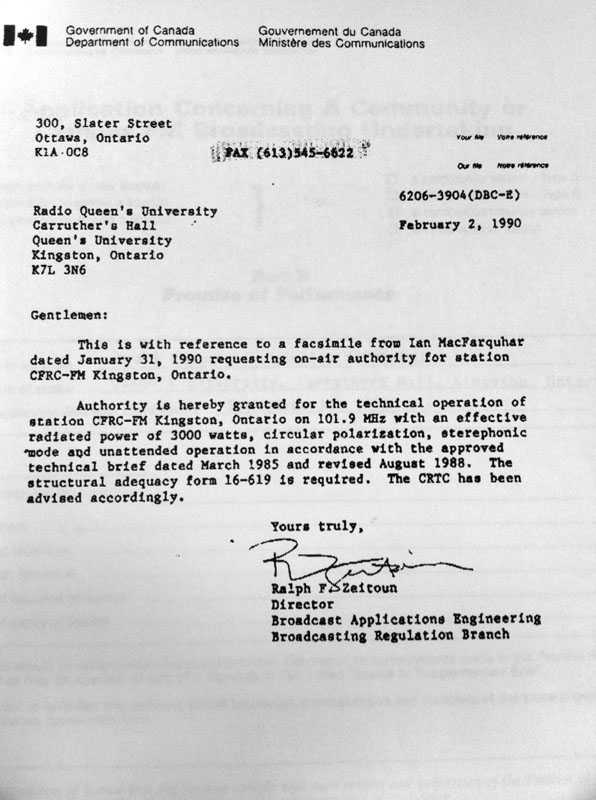 Fax from the CRTC authorizes 101.9 FM
On Saturday, February 3, 1990, CFRC shut down its frequencies at 1490 AM and 91.9 FM and began broadcasting exclusively on 101.9 FM, in stereo. Volunteers and alumni of CFRC, as well as local politicians gathered at the Donald Gordon Centre to celebrate the historical event. The new and stronger signal allowed CFRC to broadcast seven days a week. The station adopted a new logo, to recognize the new frequency.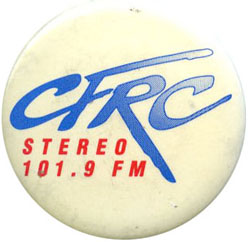 CFRC Logo - 1990
In 1997, CFRC celebrated 75 years of broadcasting as Queen's Radio, but by then it had also become truly a community radio station, by opening its doors to Kingstonians unaffiliated with the university who wished to volunteer. Community members have since become an essential part of the station's day-to-day functioning and character, and since 2012, represent approximately half of the station's volunteers.  This photo shows programmers at work in CR2 in 1997.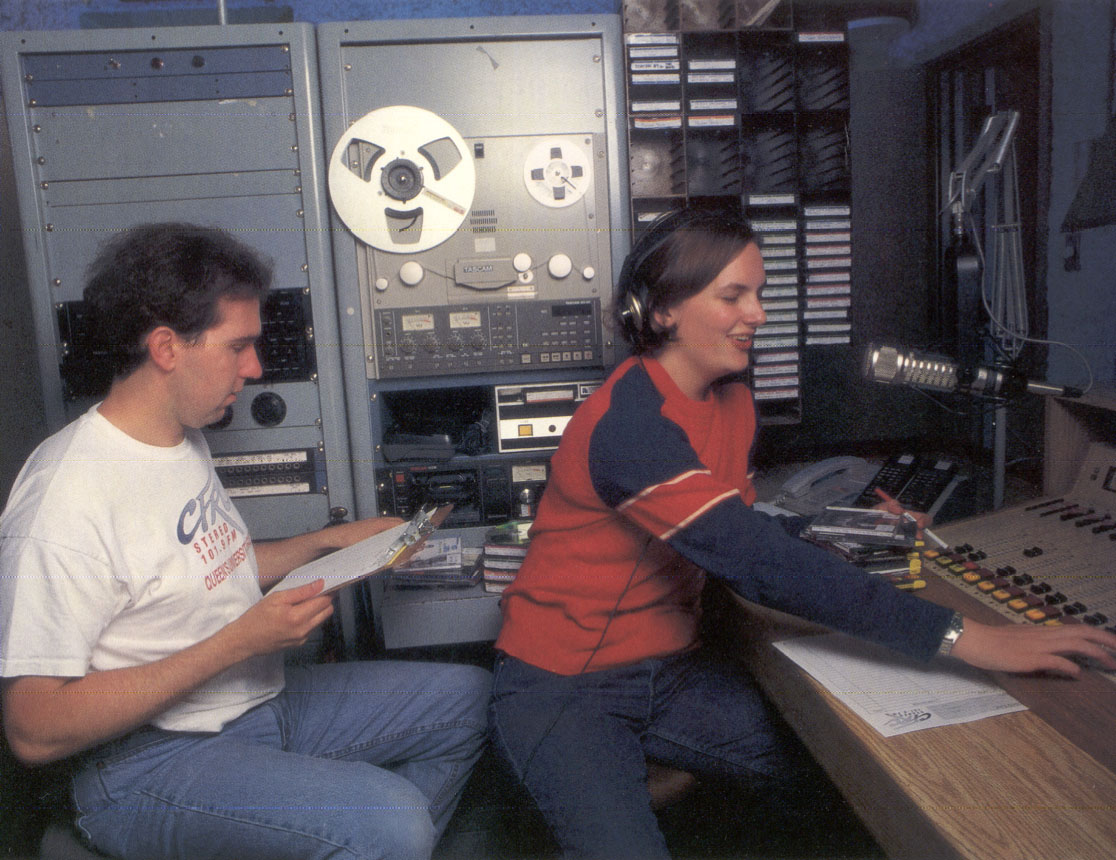 Programmers at work during CFRC 75th anniversary.
By 2001, CFRC was on the air 24 hours per day, 7 days a week. Two years later, the transfer of CFRC ownership and operations from Queen's University to the Alma Mater Society, the Queen's undergraduate student government, began. Stuart Mills was hired as CFRC's first Operations Officer.
In 2004, CFRC launched its internet audio stream at cfrc.ca, entering a new era of broadcasting history. A "high-tech" logo reflecting the excitement over internet transmission was used briefly, and a computer became a standard tool in the control room. Vinyl records were still in use, but the last reel-to-reel tape deck would soon be removed.
Eric Beers was hired as the second Operations Officer in 2006 after Mills departed for a new career with CBC Ottawa. The AMS Transfer Agreement was finalized the same year. Sayyida Jaffer stepped in the following year as Interim Operations Officer. A new website was launched in 2009, and Kristiana Clemens was hired as the third Operations Officer.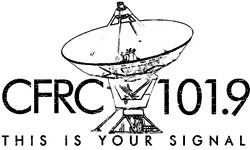 CFRC Logo - 2003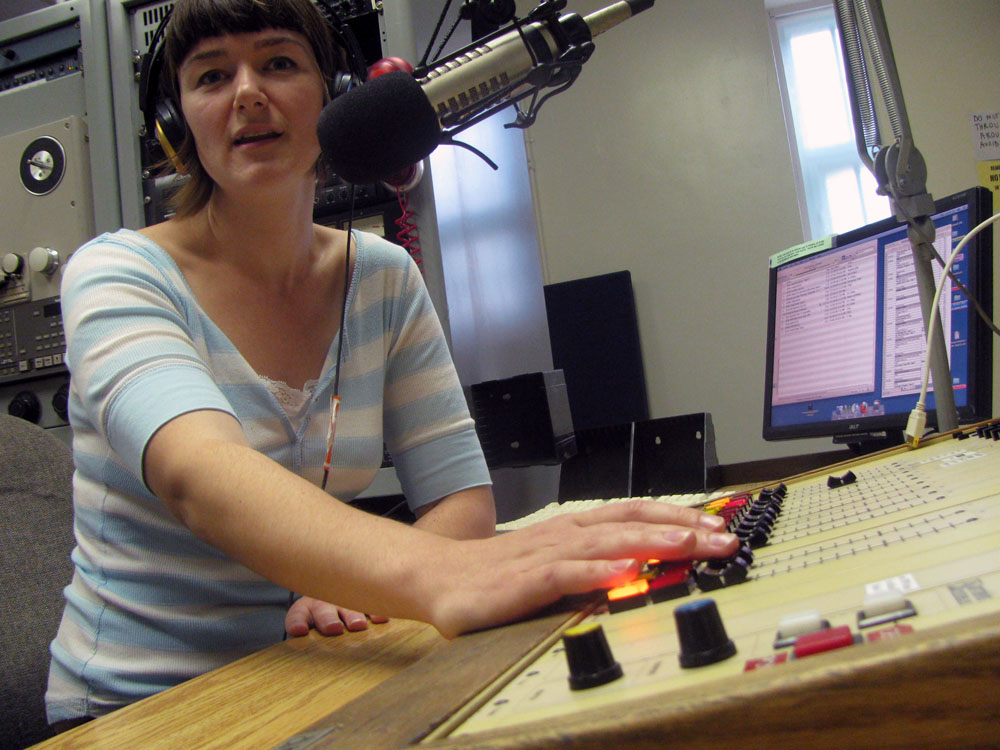 Community volunteer on the air, 2010
In 2012, as CFRC celebrated 90 years of broadcasting at Queen's, the AMS and Radio Queen's University signed a new agreement to transfer control of CFRC operations to RQU as an independent non-profit corporation within 2 years.
Since 2005, CFRC has used a logo designed by Kingston-based graphic artist Ben Nelson.  The circular design has been used in different colours and contexts over the years.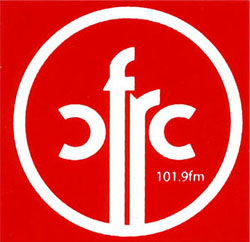 CFRC Logo - 2005
CFRC's 90th anniversary logo, seen here at the entrance to CFRC's studios in Carruthers Hall in 2012, was also conceived by Ben Nelson, maintaining the features of the station's most modern signifier while hearkening back to the colours and proportions of CFRC's vintage 1960's logo.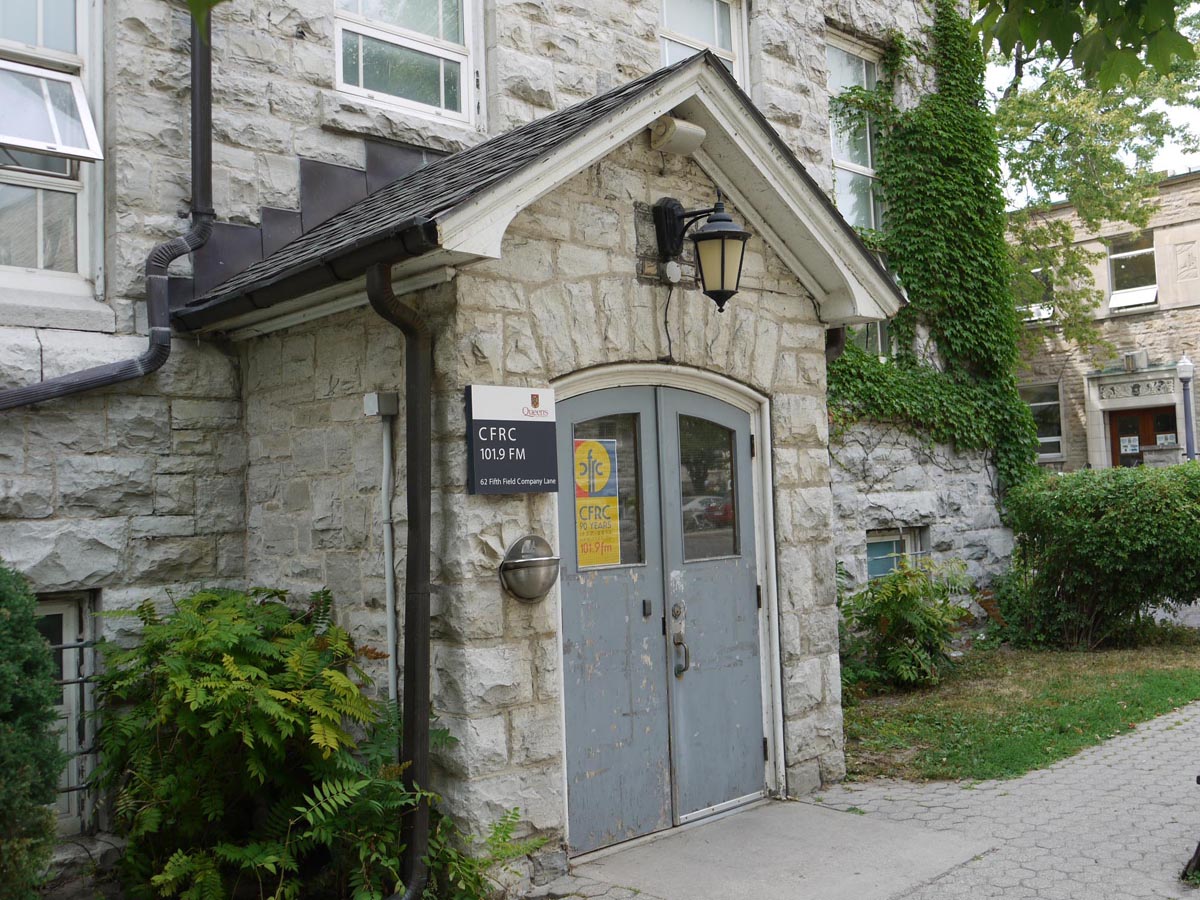 CFRC Entrance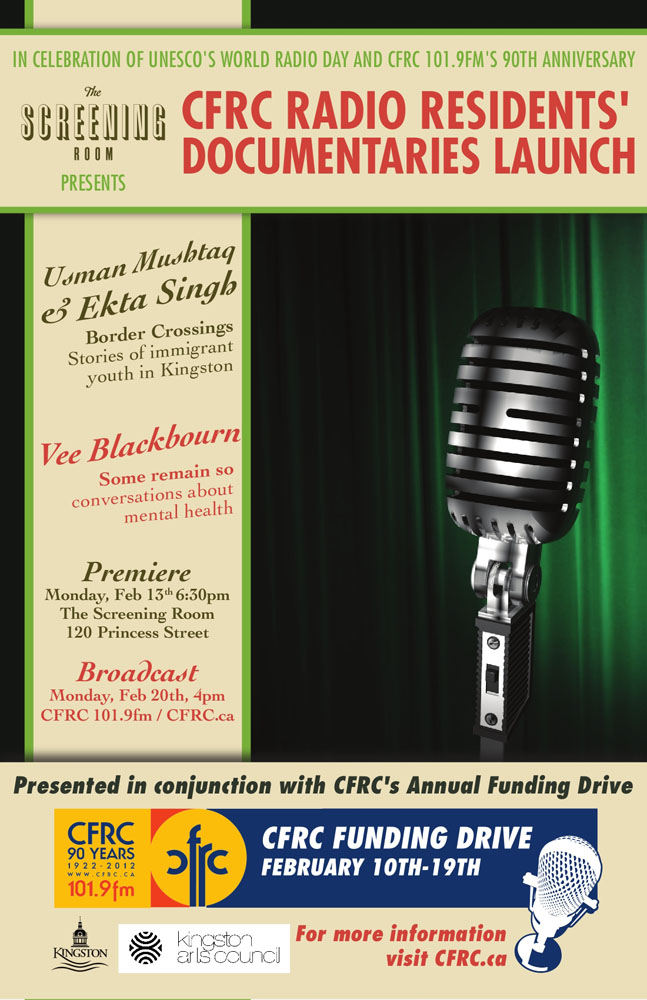 CFRC Radio Residents' Documentaries Launch poster
---