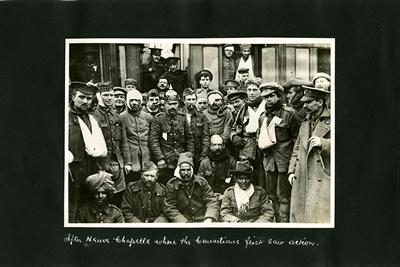 This is a photograph of the first Canadian troops to see action in World War I. To many Canadians, war was seen as a glorious and celebratory event. They were unaware of the horrors of war, because of the tremendous success that Canada had participating in the Boer War in 1899. This picture exemplifies some of the terrible consequences of war.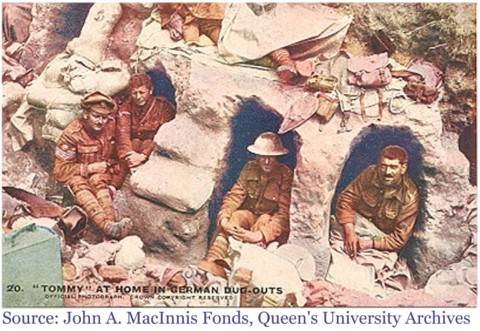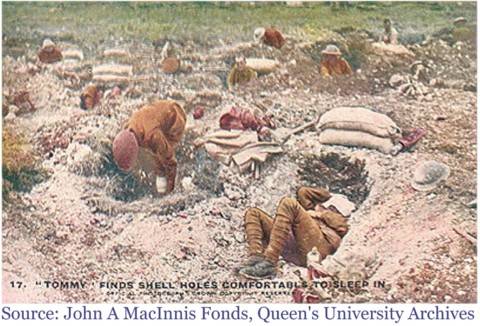 The first picture is an official postcard that was issued during World War I. This is a picture of soldiers in trench bunkers. These bunkers were dug in the walls of the trenches to give soldiers shelter from enemy bombing and to protect them from the elements (e.g., rain, snow, wind, noise, etc.).
The second picture is also an official postcard that was issued during World War I. This is a picture of soldiers taking cover in shell holes that were left in the landscape by enemy bombing. Shell holes were used for temporary cover until more permanent trenches and trench bunkers could be dug.
From 1914 onwards, trench warfare became a central feature of military conflict. The Germans were first to introduce the systems of trenches but the Allies soon followed their example. Trench warfare introduced new rules of combat and new weaponry. Poison gas attacks and bullets designed to pierce protective sand bags, landmines, machine guns, flame throwers and mortars were first introduced to support trench warfare.

Life in the trenches produced horrors unknown in military history, as soldiers huddled together in unbelievable living conditions, and suffered staggering casualties from bombardment, gas attacks and machine gun fire.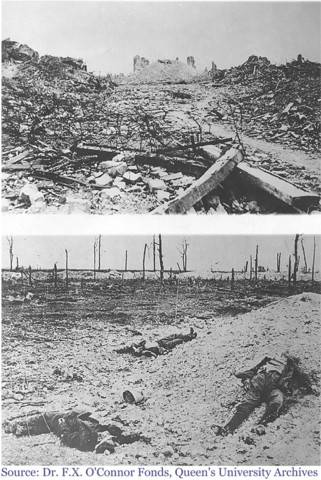 This is a picture of a typical battlefield in France. War kills more than just human lives. Many times all the vegetation (e.g., trees, grass, plants, etc.) in an area is destroyed by war. One of the most devastating consequences of war is the total destruction of infrastructure (e.g., roads, houses, etc.). As a result, innocent families are left stranded and homeless. Many of these families died in World War I from starvation or they froze to death, unable to find proper shelter during the winter months.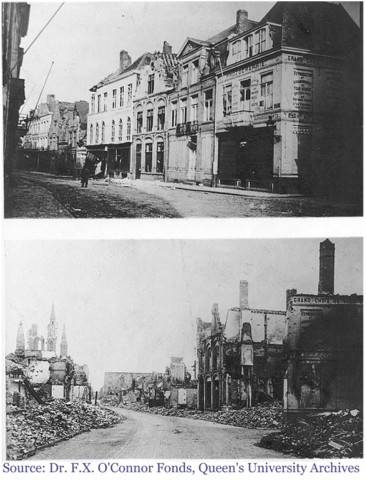 This photograph is a before and after look at Menin Road, located at Ypres. The top picture was taken in 1914, and the bottom was taken in 1918 after the "Battle of Ypres". This is an excellent example of the total destruction that WWI brought to many parts of France.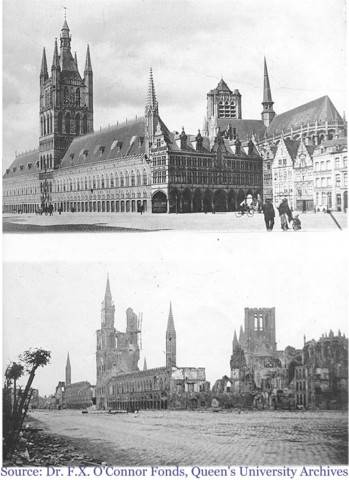 This photograph is a before and after look at Cloth Hall, located at Ypres. The top picture was taken in 1913 and the bottom was taken in 1915, after the first "Battle of Ypres."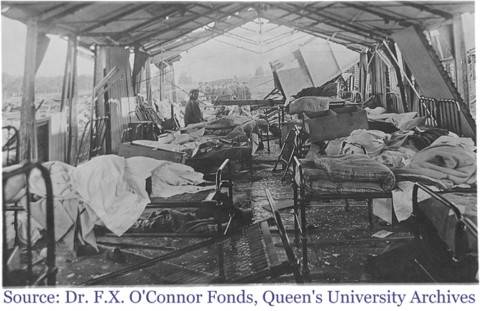 This is a photograph of a hospital in France that was destroyed during the fighting in WWI. The destruction of military hospitals often resulted in the death of many wounded soldiers, as well as the loss of precious doctors and volunteers. Most WWI military hospitals were not real hospitals, but rather buildings (e.g., churches and schools) that were converted into temporary hospitals. Closer to the front, military hospitals were usually limited to tents or temporary shacks.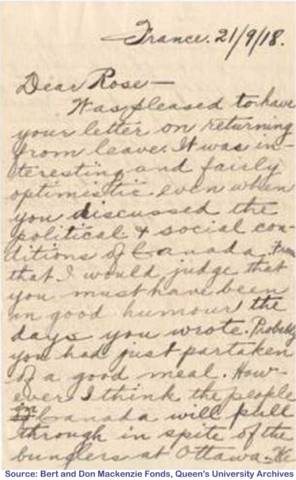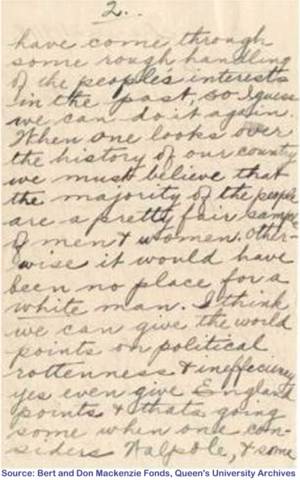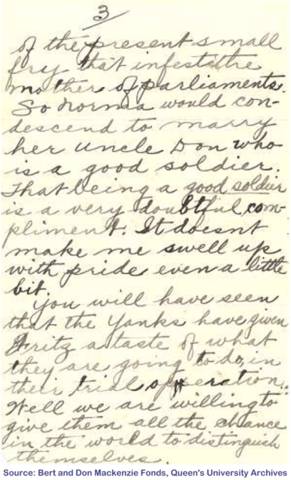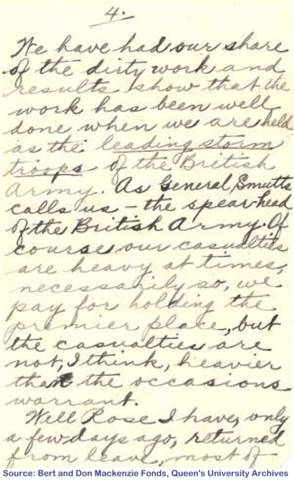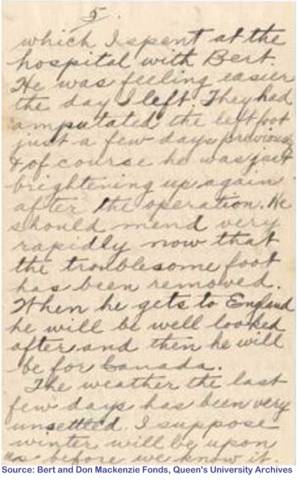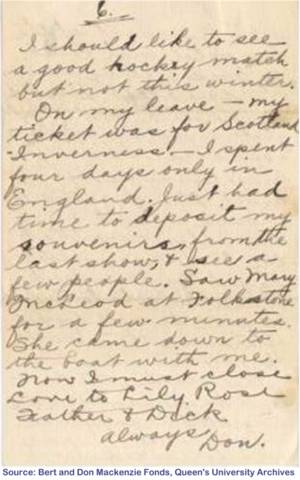 This is a letter home from Don Mackenzie (Canadian soldier during WWI), addressed to a girl named Rose who was living in Canada at the time. Don begins the letter by describing the political rottenness that is present in Canada and England during WWI. He goes on to talk about the entry of the United States in the war. The Canadian troops were anxious to let the Americans go ahead and make their mark. Don talks about the success that Canadian troops have already had. He refers to the Canadian troops as, "the leading storm troops of the British Army" and, "the spearhead of the British Army". Don talks about his visits with his brother Bert in a military hospital while on leave. Bert injured his foot during battle and doctors were forced to amputate it. Don finishes by talking about yearning to see a hockey match, a true sign of Canadian patriotism.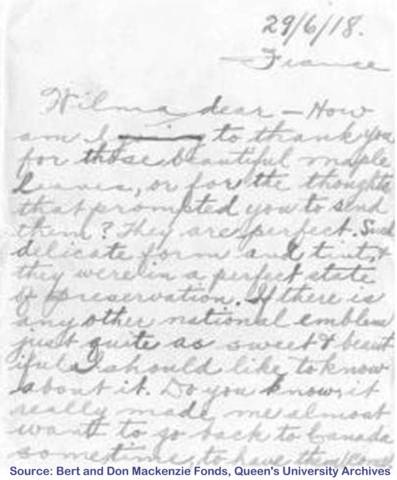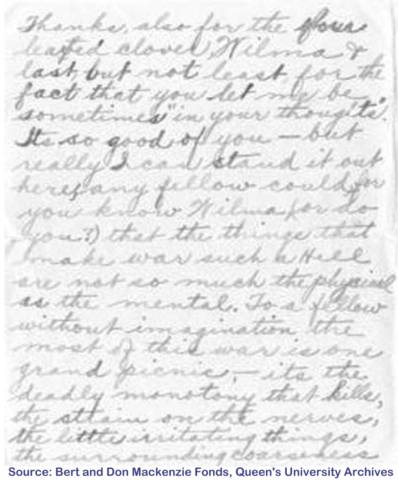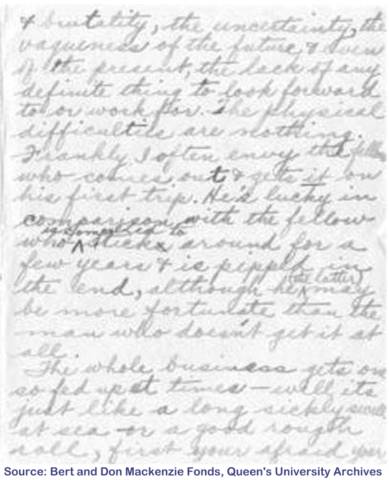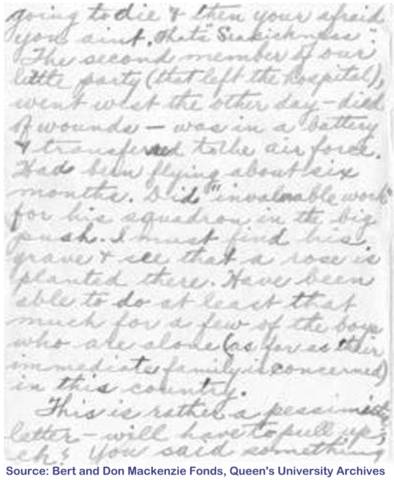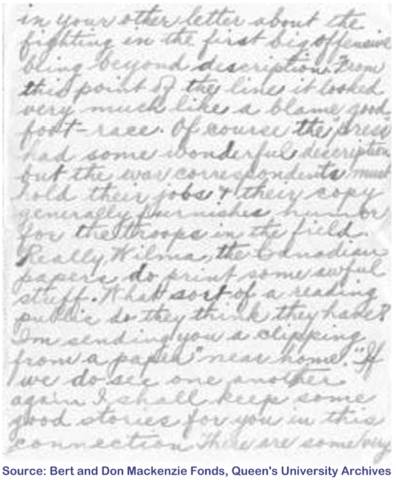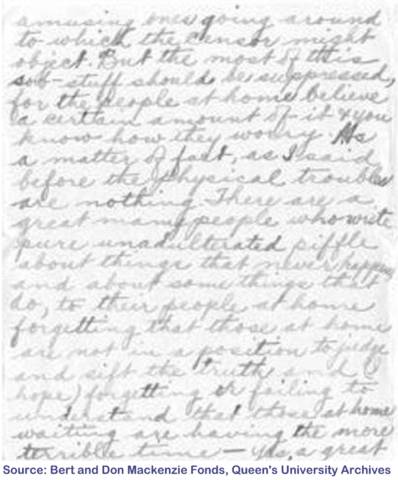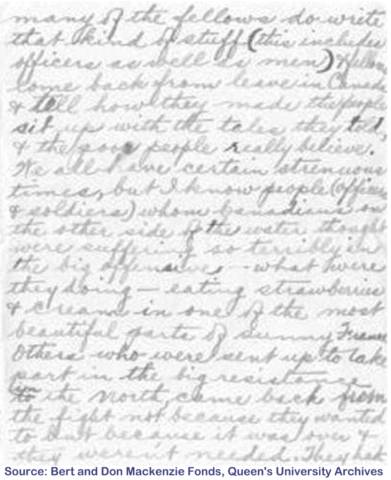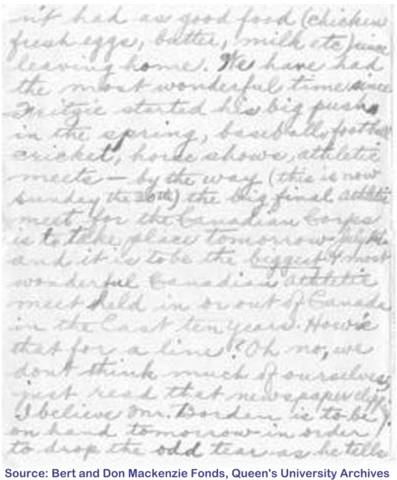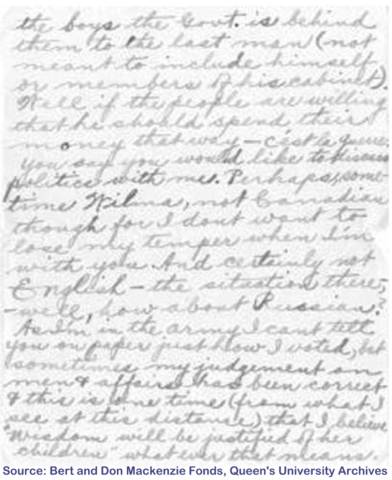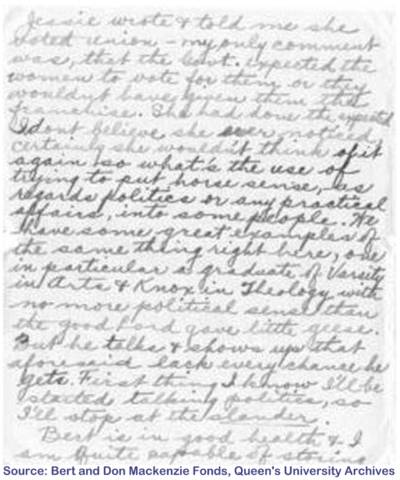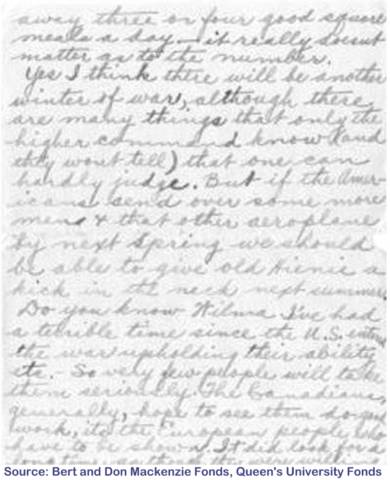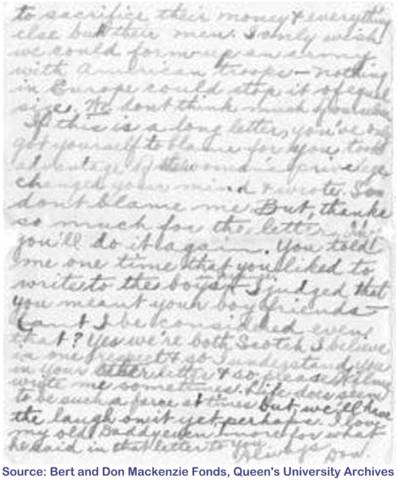 This is a letter home to Canada from Don Mackenzie (Canadian soldier posted in France during WWI), addressed to a girl named Wilma who was living in Canada at the time. Don talks about how the physical aspect of war is not as bad as the hellish psychological struggles that soldiers experience during war. Don suggests that those waiting impatiently in Canada must have it much worse than those at the front. He suggests that the worst part of war is all of the nervous waiting that soldiers are forced to do in anticipation of the next battle. Don goes on to talk about the feelings that come with losing his comrades. He also talks about an impending visit by Canadian Prime Minister Robert Borden. Don talks about the vote being given to the women of Canada in hopes that they would vote in favor of the current government. Borden and his government felt the women of Canada would vote for his government because they strongly supported the war effort. Don finishes the letter by discussing the situation that has arose at the front with the late entrance of the United States into the war. Some of the European soldiers seem to be offended by their late entry, accusing them of not making an equal sacrifice.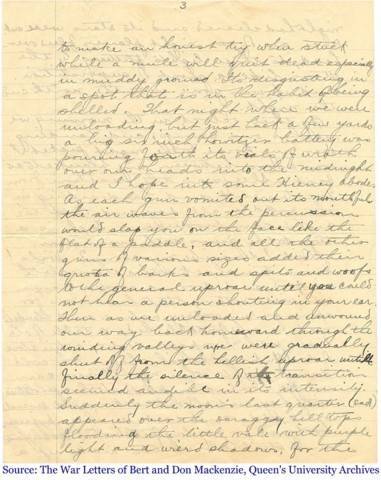 The following is a transcription of one page from a letter written by Bert Mackenzie (Canadian soldier at the front in France, WWI):
"When they hear a shell burst near them they cringe up to you just as though they were asking your protection. But they're always ready to make an honest try when stuck while a mule will quit dead especially in muddy ground. It's disgusting in a spot that is in the habit of being shelled. That night when we were unloading, but just back a few yards a big six inch howitzer was pouring forth its vials of wrath over our heads into the midnight and I hope into some Hieney abode. As each gun vomits out its mouthful the air waves from the percussion would slap you on the face like the flat of a paddle, and all the other guns of various sizes added their quota of barks and spits and woofs to the general uproar until you could not hear a person shouting in your ear. There as we unloaded and unwound our way back homeward through the winding valleys we were gradually shut off from the hellish uproar until finally the silence of the transition seemed audible in its intensity. Suddenly the moon's last quarter (sad) appeared over the scraggy hill tops flooding the little valley with purple light and weird shadows."