As CFRC began to approach its 60th anniversary on the air, one volunteer began to research and firmly document CFRC's origins as 9BT and to sort out its history and influences in the Queen's and Kingston communities over the years. In early 1983, after many months of research, interviews and studio work, the station began airing "The Queen's Radio Oral History Project", a 24 hour-long audio documentary assembled on 24 ten-inch reels of audio tape. This award-winning project was created by Dr. Arthur Zimmerman, long-time CFRC broadcaster and CFRC Program Director.
The audio clips featured throughout this exhibit are excerpted from "The Queen's Radio Oral History Project". CFRC radio digitized the entire documentary in celebration of the station's 90th anniversary, preserved at Queen's Archives (SR271-SR295).
Dr. Arthur Zimmerman continued his research on CFRC's history after the 1983 broadcasts, and in 1991 published "In the Shadow of the Shield: The Development of Wireless Telegraphy and Radio Broadcasting in Kingston and at Queen's University, 1902-1957".  This 657-page, thoroughly documented book is one of the few publications on community radio in Canada and is the definitive source on CFRC's early history. It is available for purchase from Dr. Zimmerman (email arthurz@look.ca).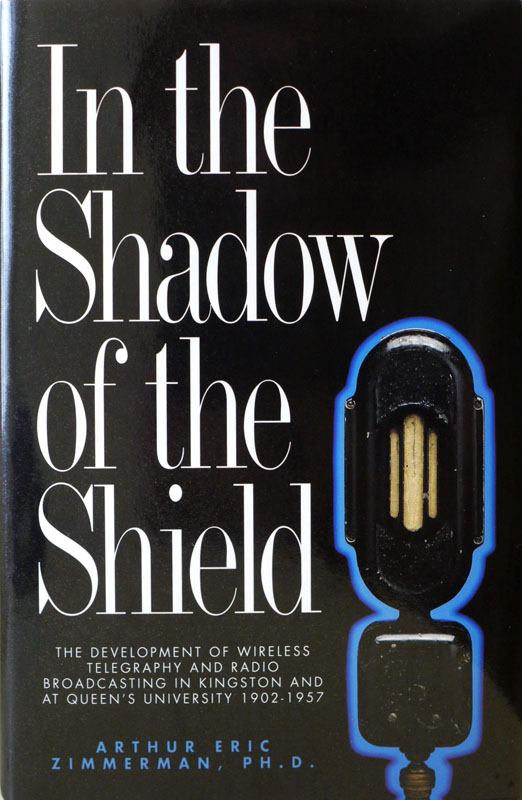 In The Shadow Of The Shield by Arthur Zimmerman
A new logo adopted in 1985 featured a slogan recognizing CFRC's history: "First in Kingston."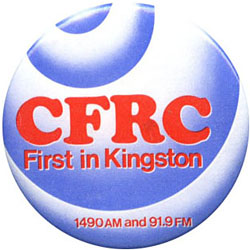 CFRC Logo, 1985
This photo shows CFRC staff and volunteers posing on the steps of Carruthers Hall in 1980.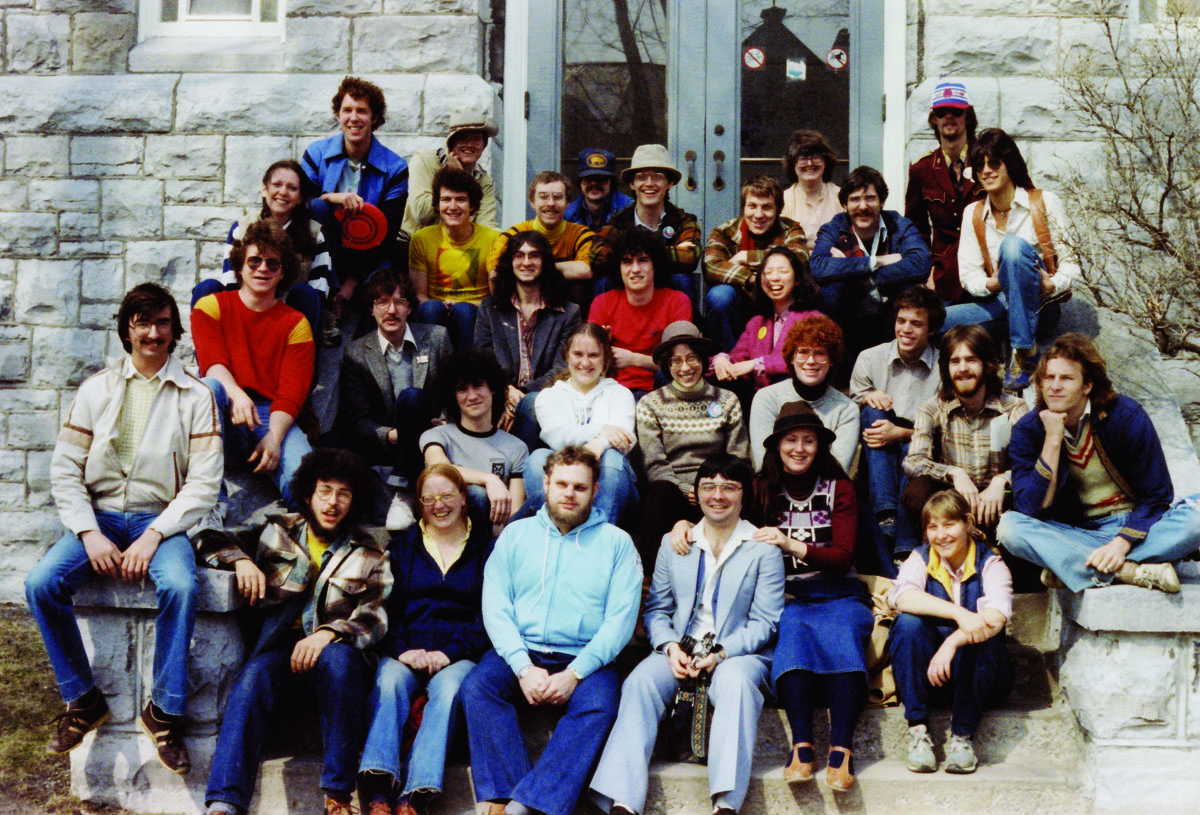 CFRC Volunteers, 1980s
In this audio clip, CFRC alumnus Dan Shire describes how overwhelming support in a Queen's student referendum had pushed the "Go Stereo" campaign over the top in February 1982.

Dan Shire on the student referendum in 1982
But the path to 'Go Stereo' had more than simply financial obstacles. Steve Cutway described the 1980s as a decade of "anticipation and disappointment."  Another encouraging development was the donation by the CBC of a McCurdy stereo broadcast console, recognized in this news story in the Queen's Gazette.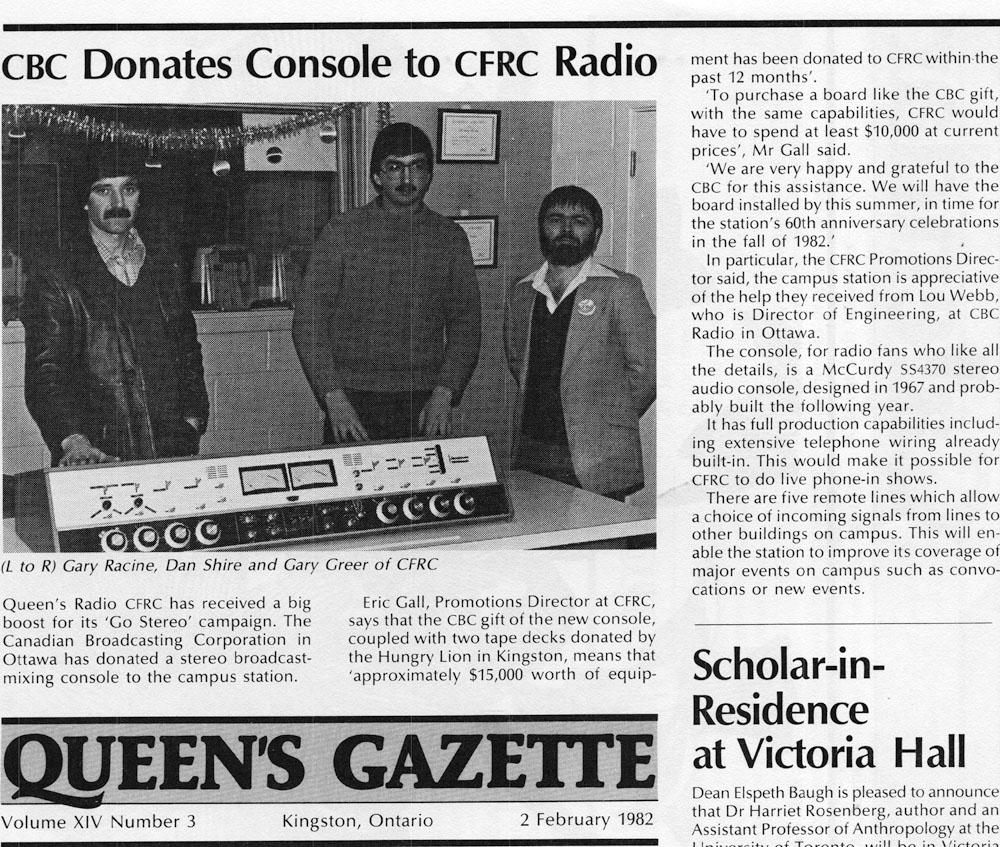 "CBC Donates Console to CFRC Radio" (Queen's Gazette, 2 Feb. 1982)
In 1983, the Canadian Radio-Television and Telecommunications Commission (CRTC) put a freeze on all new FM licenses. But this was not the biggest delay in CFRC's plans to air seven days per week. In order not to interfere with experiments at Queen's, CFRC's transmitter had to be moved off campus. Cutway, along with Gary Racine (Head of Queen's Electronic Service Shop) and university administrators, began a search for a new transmitter site, and that came with its own set of challenges and hurdles. The first site, on Queen's property in Kingston's Pittsburgh Township, was approved by the university in 1986 after 16 months of consideration, but then taken back once the university saw a sharp increase in that site's commercial property value. The next site was approved by CRTC then withdrawn upon concerns of neighbouring residents. Finally, an agreement was reached in February of 1989 with Cantel (now Rogers) to co-locate on their microwave tower in the Kingston Mills district near the junction of Highways 15 and 401. The final hurdle came when trying to find a suitable frequency for broadcasting.
By this time, CFRC was broadcasting at both 1490 kHz AM and 91.9 MHz FM. The power increase on the old frequency of 91.9 MHz would likely cause interference with other stations and left CFRC working together with the Canadian Department of Communications to find a new frequency. After months of negotiations, CFRC was assigned 101.9 MHz under one condition: there must be a three-week test to monitor for interference problems.
---