In another agreement with The Kingston Whig-Standard, CFRC broadcast the results of the Dominion general election as they were received at and relayed by telephone from the local newspaper. On July 28, 1930, CFRC informed its listeners for miles around that the Liberals of Prime Minister William Lyon Mackenzie King had been defeated by R. B. Bennett's Conservative Party.  This page from the 1930 log book shows that broadcast, which was the first time CFRC was officially on the air outside of the University's academic term.  Other occasional broadcasts at this time included sports, lectures and Fall Convocation.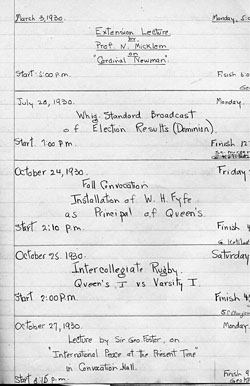 Programme Log, 1930 Election
As CFRC was beginning to develop its listener base in Kingston, disaster struck the station. On June 6, 1933, a fire destroyed the interior of Fleming Hall and all of CFRC's equipment.  This audio clip is a personal account by Betty Black-Allen, who watched the fire.

Betty Black-Allen discussing the fire in 1933
After this devastating loss to University Property and CFRC's still hard-to-source and fund equipment, Prof. Harold Stewart and some students re-built his 1931 transmitter, incorporating minor changes and, after negotiations by the University, Queen's Radio started receiving occasional feeds from the new Canadian Radio Broadcasting Commission (CRBC) station in Toronto.  This 2012 photo shows the restored Fleming Hall, with the copper wire aerial which was strung between masts on Fleming and Ontario Hall, and was removed in 1990.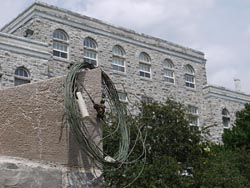 Fleming Hall aerial
In 1936, Queen's and the Kingston Whig-Standard formed a business partnership to make CFRC a commercial station, though the University exercised some control over advertising content, particularly about patent medicines. For the next six years, Queen's Radio carried programs from the CRBC and then from its successor, the CBC trans-Canada network. CFRC personnel produced several daily news reports, using ticker-tape material from the news wires, local live music programs, and its own informative and uplifting talks by Kingstonians on many subjects.
This audio clip describes this agreement, as told by long-time owner and publisher of The Kingston Whig-Standard, the late Arthur L. Davies.

Arthur L. Davies from the Kingston Whig
This photo circa 1937 shows Harold Stewart's brother John Donald Stewart who had a part-time job as a technical operator for CFRC.  The photo was taken through the window from the studio (now known as CR3), and which also shows the transmitter through the window in the background. Another photo from the same period shows announcer Thomas J. Warner speaking into a Bruno Laboratories model RV-3 microphone which is now in the Queen's Archives collection.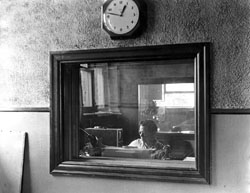 John Stewart, ca. 1937 (Queen's Picture Collection V28-O-CFRC-10)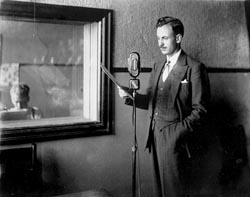 Tom Warner, ca. 1937
A daily log from this period of commercial broadcasting shows an episode of "The Family Doctor," sponsored by Dr. Chase's Medicine Co.  Advertisements for patent medicines created some tension in the period, as the Medical faculty was opposed to them being carried on the Queen's station.  That evening, the somewhat awkward balance of educational and commercial interests is further illustrated by a lecture from Prof. A.E. Prince entitled "Toward International Peace," with a commercial for Red & White Stores.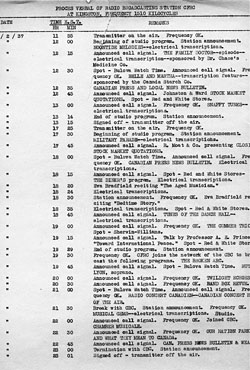 Programme Log, 1937
In 1938, CFRC broadcast another event of great historical importance. The station supplied a feed of President Franklin Delano Roosevelt's convocation address from the old Richardson Stadium to every single radio network on the continent. In this historic broadcast, Roosevelt promised that if Canada were attacked in the coming war against Axis powers, the United States would not stand idly by. Though no attack on Canada occurred directly, over the next couple of years, CFRC carried the trans-Atlantic news feeds and pivotal speeches from the CBC, about the diplomatic and military descent into World War II. In this audio clip, former CFRC operator Chuck Millar describes being at the controls for FDR's 1938 speech at Queen's, listened to closely around the world.

Convocation address of US President Franklin Delano Roosevelt at Queen's University, 1938
During this period of collaboration with The Whig-Standard and the CBC, Queen's Radio was also committed to making community connections in Kingston. The station broadcast local singers, instrumentalists, bands, speakers, novelties - even featured two sisters who tap-danced in the studio - and hosted talent contests for Kingston residents.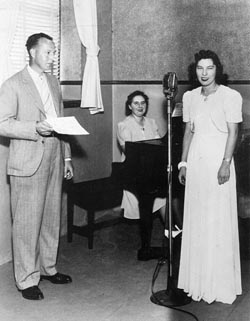 Chuck Millar, Kathleen Grimshaw and Florence "Flossie Cricket" Dale, ca.1938
(Photo courtesy Florence (Dale) Courneya)
Kingstonian Florence Daly-Courneya won an amateur contest for her vocal performance of "Pennies from Heaven" in 1938. Play the audio clip below to listen to her sing and describe her prize, on a weekly live program of song on CFRC.
Art McDonald also won an amateur contest at CFRC in 1938, for his band the Rhythm Racketeers. He too was awarded a weekly program on the station. This audio clip features an unique transcription recording of the group.
This May 1938 photo shows Prof. Harold Stewart with the transmitter. In early 1939, Prof. Stewart, concerned that this old Mark VI transmitter was inadequate, would build yet another new transmitter, Mark VII, capable of putting out 250 watts.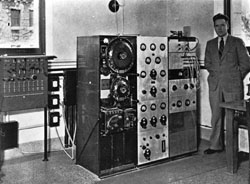 Prof. Harold Stewart with the transmitter, 1939 (Queen's Picture Collection, V28-O-CFRC-9)