Under Andrew Marshall's direction in the early 1970's, Queen's Radio began to pursue a dual mandate of providing programming for the student audience, primarily on 1490 AM, and classical music or "Fine Arts" for the community, primarily on 91.9 FM. This added some 25 hours of programming to the week.  The station's longest-running logo had been adopted in 1969, and began appearing on program guides which were sent out regularly to a growing mailing list.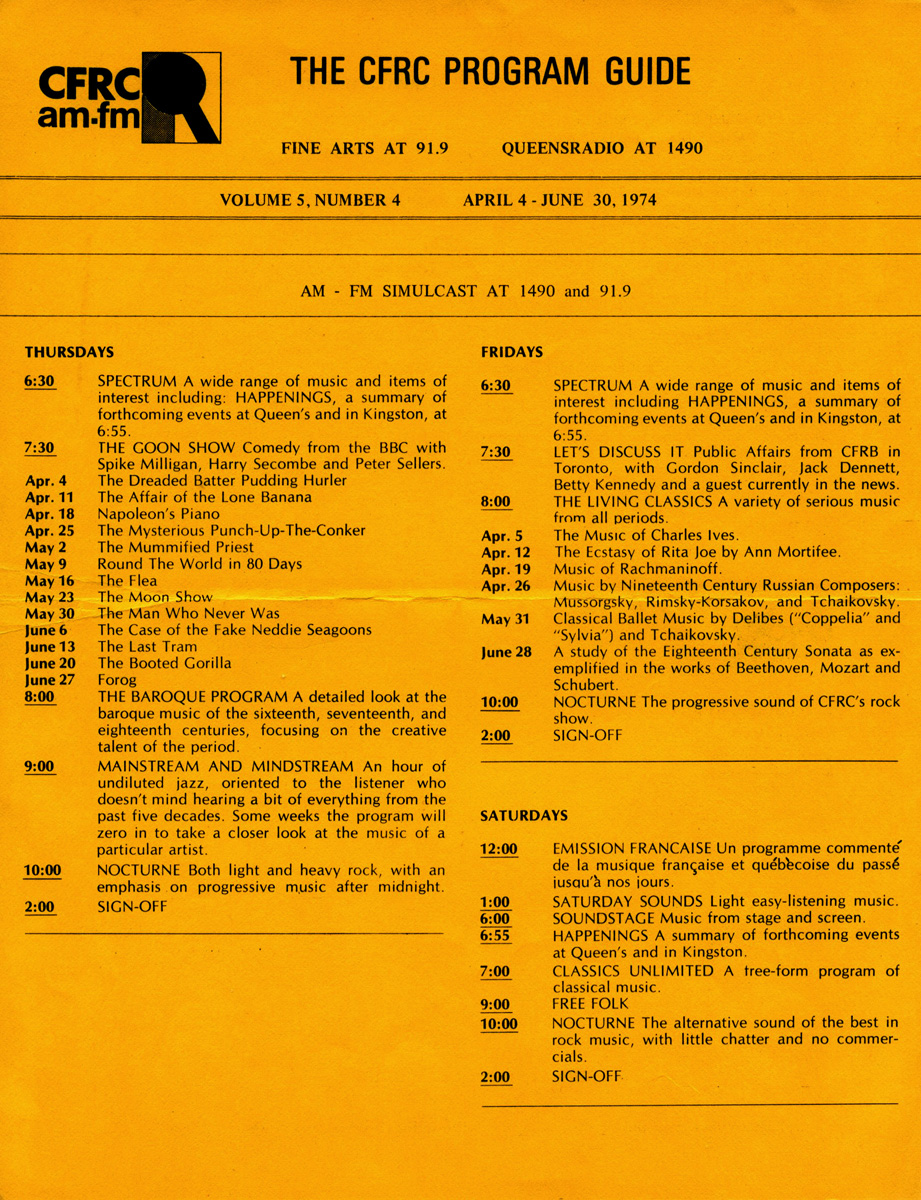 Program Guide, 1974
The AM and FM transmitters were still both located in Fleming Hall, as seen in this 1971 photo of Philip Brown monitoring the AM transmitter, with the 1952 Westinghouse FM system to the right.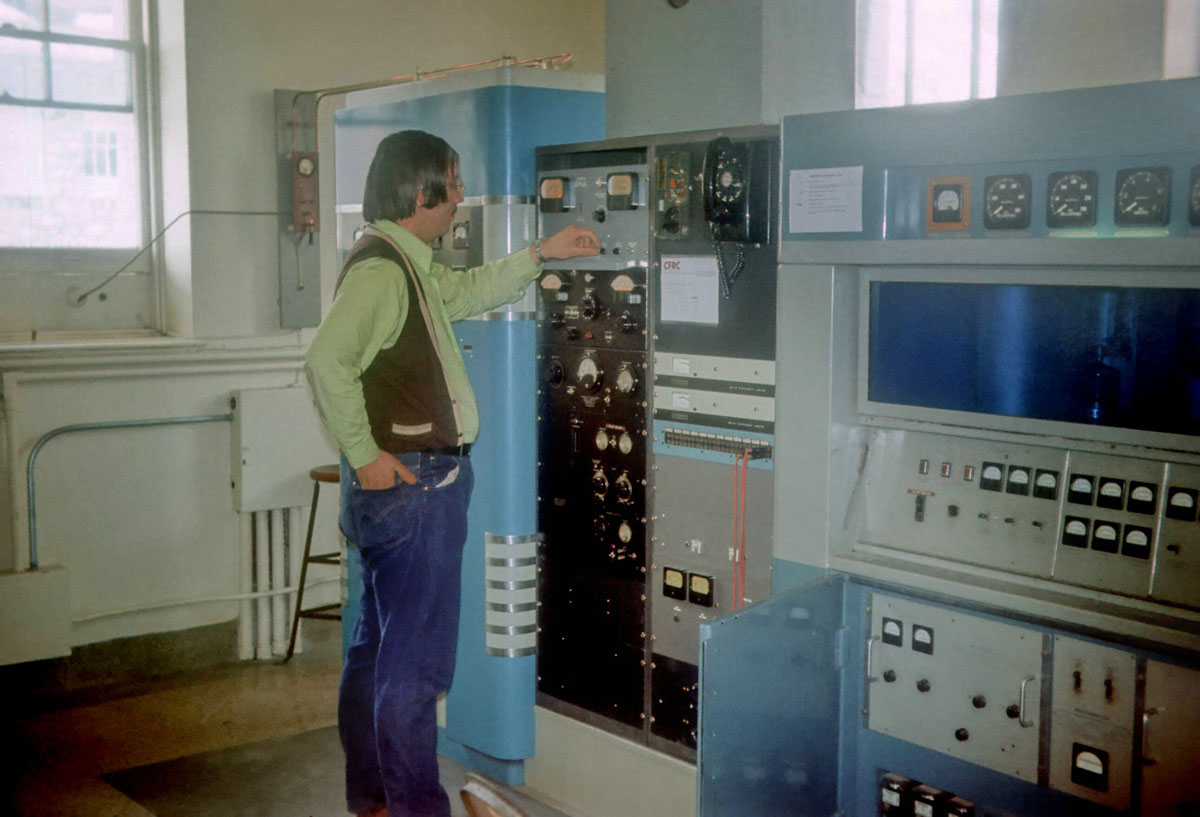 Phil Brown in the Transmitter Room, 1971
Rock music was still played only during the late-night show "Nocturne". Many records from that era in CFRC's massive library are still labelled "Nocturne Only". Nocturne in the early 1970s was on AM from 10 p.m. to midnight and simulcast on AM and FM from midnight to 2 a.m. (Thursday, Friday and Saturday nights only.) This photo shows student Dave Cunningham broadcasting on AM from "Master Control" while the smaller "Sub-Control," on the far side of Studio A, feeds the FM transmitter.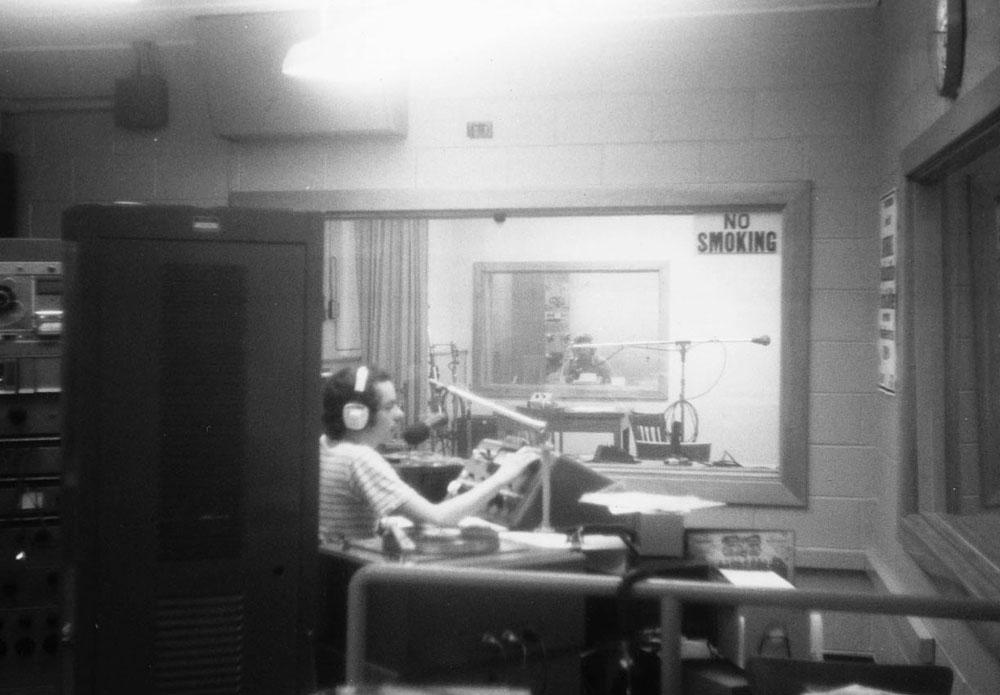 Dave Cunningham at Master Control, 1972 (CFRC fonds V132.26SE-2)
The station celebrated its 50th anniversary in 1972, and Andrew Marshall wrote a retrospective article which appeared in both the Queen's Journal and Kingston Whig-Standard, entitled "Fifty Years in the Saddle is a Long Time." CFRC alumnus Lorne Greene, who received an honorary degree from Queen's that year, was photographed by Wallace Berry in Sub-Control, where he recorded a series of messages of congratulations to the station.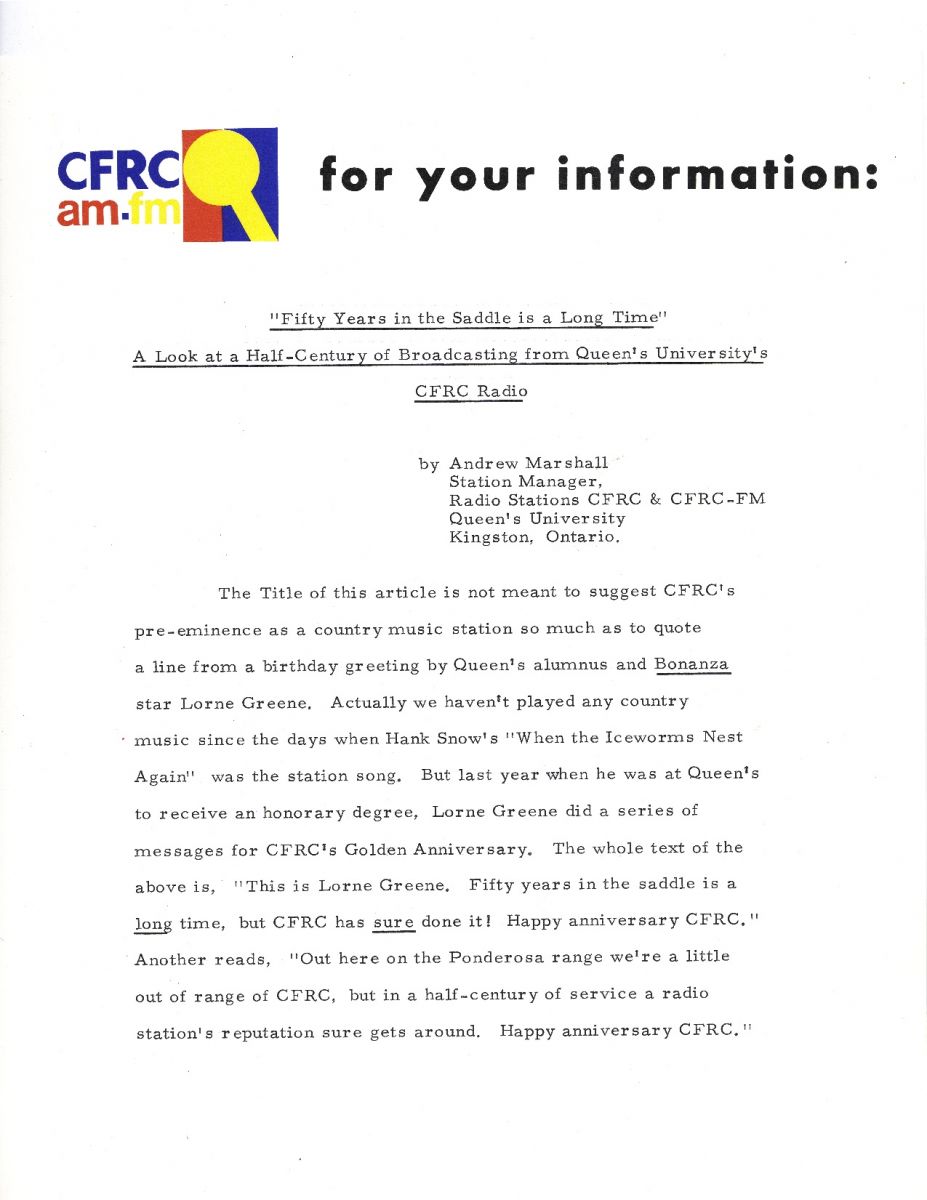 CFRC 50th Anniversary Retrospective by Andrew Marshall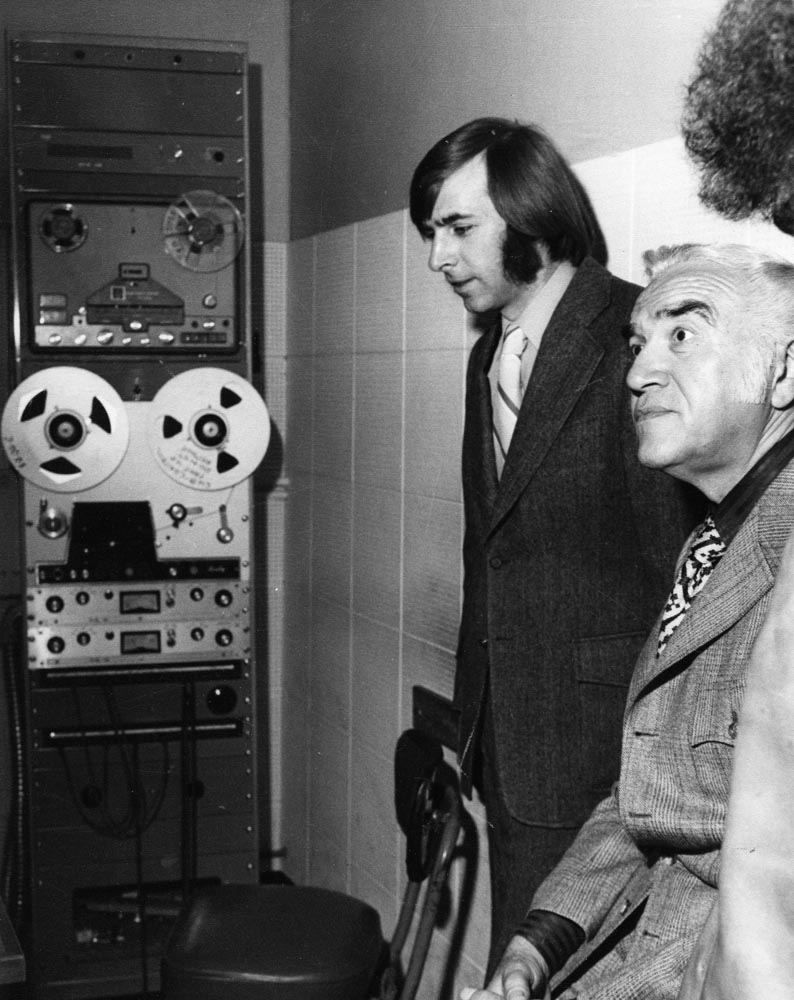 Andrew Marshall and Lorne Greene, 1972
(Queen's Picture Collection V28 P-97.4)
New remote-control Scully tape decks allowed production of programs on ten-inch 60-minute tape reels. A Scully is seen here above an old Magnecord in a photo of Dave Steer producing the music program "Sunday Morning."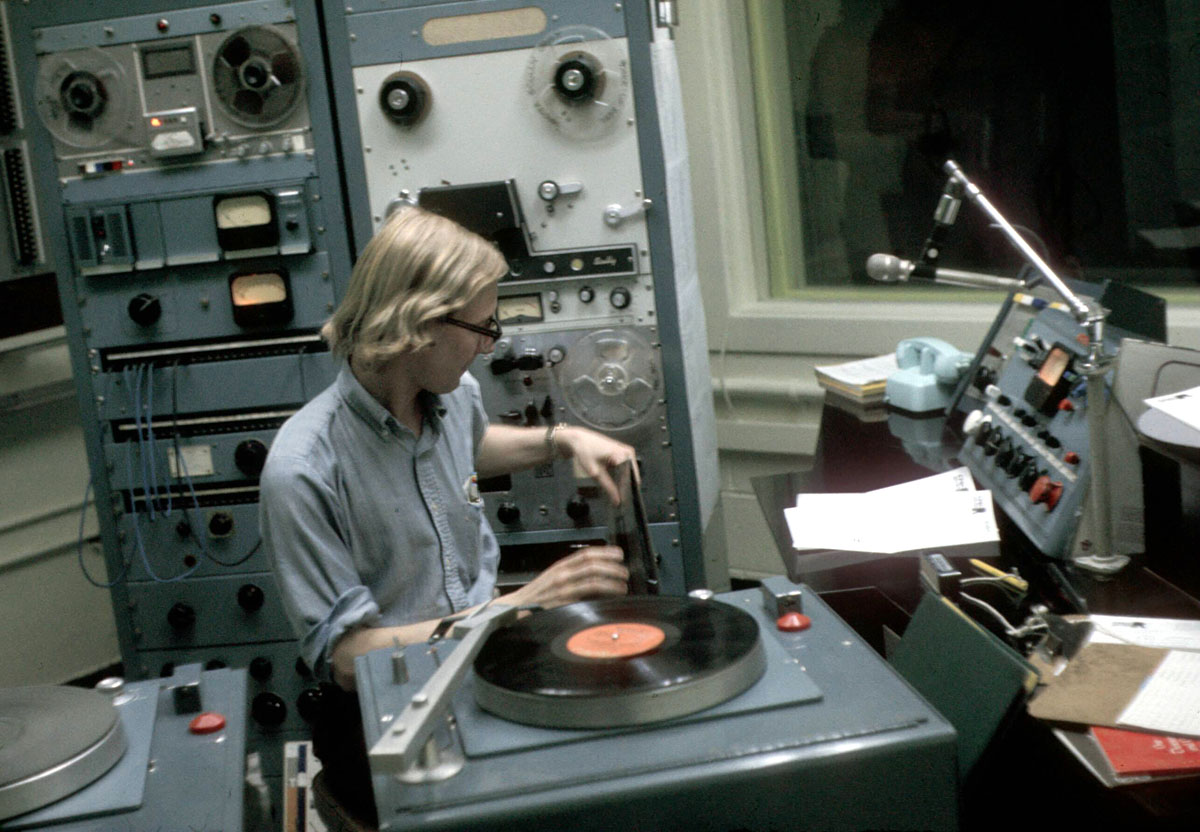 Dave Steer at Master Control, 1970s
In 1974, CFRC alumnus Steve Cutway succeeded Andrew Marshall as station manager.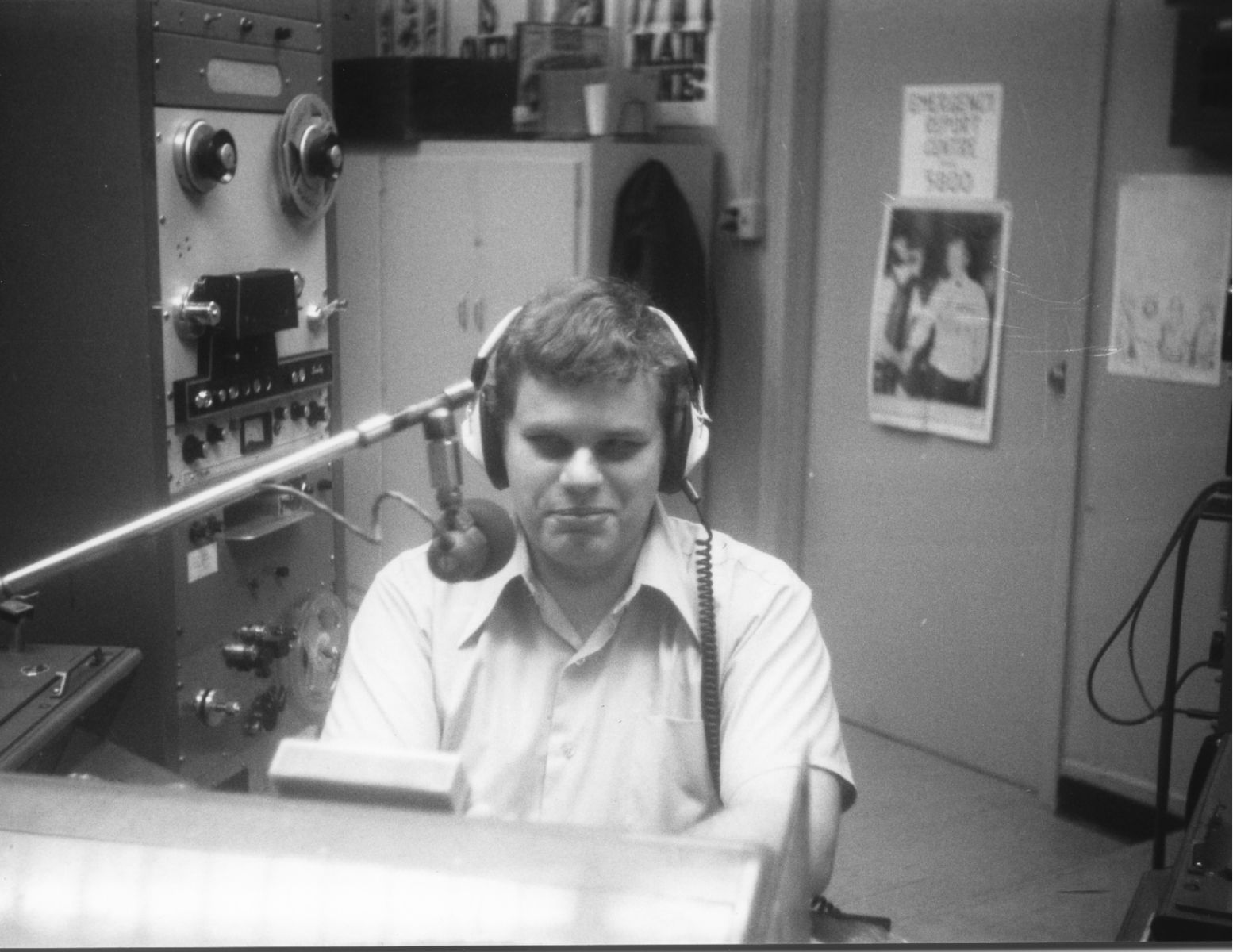 CFRC Station Manager Steve Cutway, 1973 (CFRC fonds, V132.26SE-2)
In this audio clip, Steve Cutway recalls how CFRC was saved from a possibly disastrous new location in the John Deutsch University Centre.

Steve Cutway on plan to move CFRC to JDUC in 1970
For the members of the Radio Club, the big dream on the horizon was of broadcasting at higher power in FM stereo and necessarily from an off-campus antenna. These changes would give the station a much larger profile in Kingston. The increased wattage and much elevated antenna would allow the broadcast signal to reach further in all directions. Not only would the signal be stronger, but crisper and in high fidelity. More importantly, shutting down the on-campus AM station to go to exclusively FM would mean less interference with physics experiments at Queen's. With this change, the station would be able to broadcast seven days per week, instead of just evenings and weekends.
This series of photos from Frosh Week 1974 illustrate the station's involvement in campus life and student activities.
Queen's students seemed to appreciate the value of campus radio, as shown when they voted for CFRC student fees to allow the station to pursue stereo broadcasting.  The students approved a $0.25 sports broadcasting levy in 1975, and then approved an increase to $0.40 per student in 1977.  In the same year, Kathleen Ryan (Arts '26) donated $35,000 in memory of her husband to start the "Go Stereo" fund.  
In the fall of 1976, the AM and FM program schedules were for the first time completely separate. By 1977, the station was broadcasting 59-61 hours of weekly programming, which increased to 70 hours in 1978. In the same year, the station added a new, stereo control room.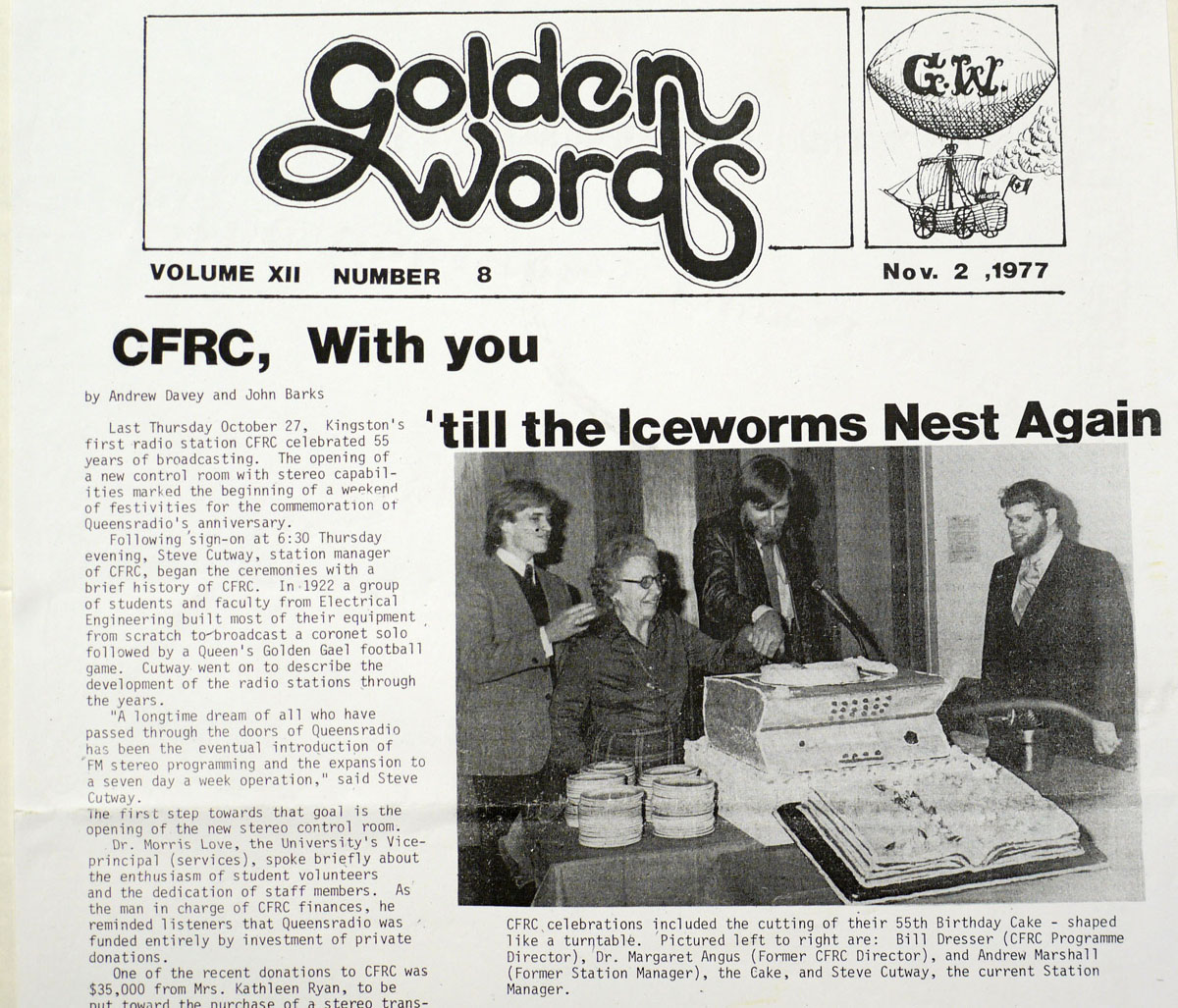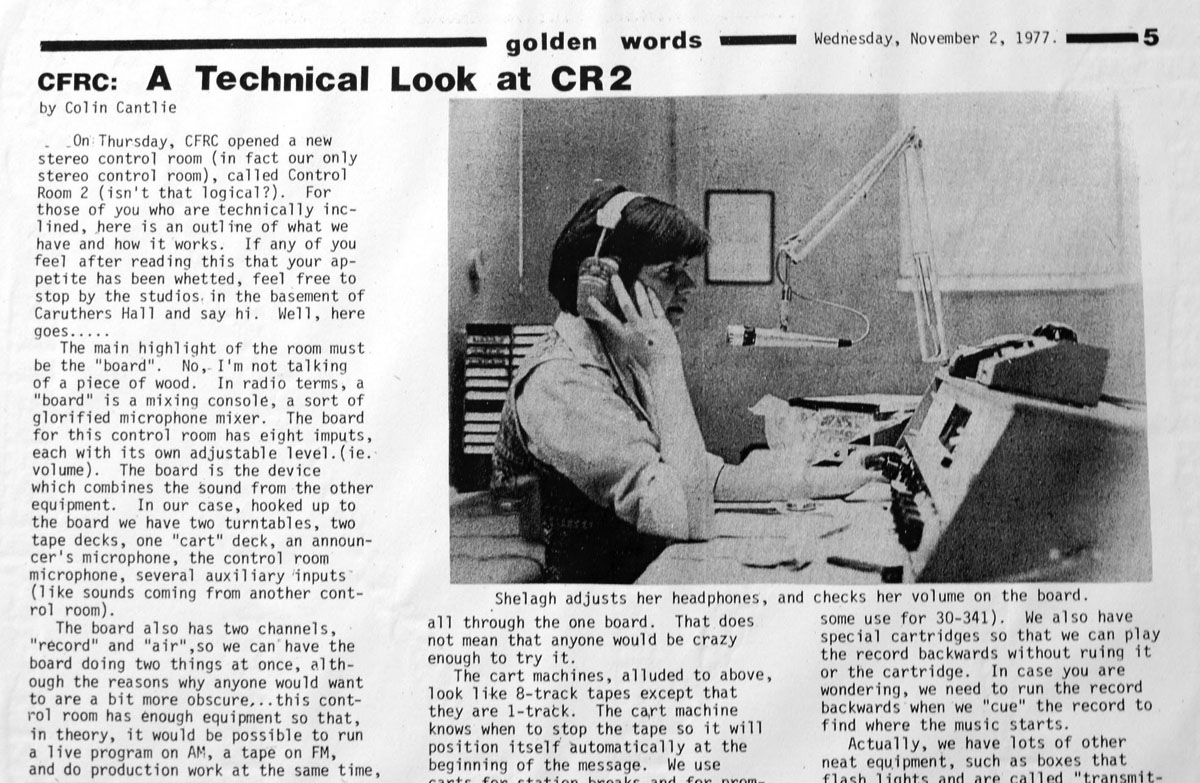 Golden Words article on new stereo control room, 2 Nov. 1977
---