In 1942, CFRC's commercial partnership with The Whig was dissolved. CFRC's transmission power from campus was limited to only 100 watts and that, plus Queen's University's resistance to patent medicine advertising on the station, created too much strain for the business co-operation to continue. The Kingston Whig-Standard debuted its own commercial radio station, CKWS, on August 31. CFRC's broadcasting stopped, and radio at Queen's was once again relegated to an experimental project of the Electrical Engineering Department for the next three years.
Queen's Radio's fortunes turned around once again in 1945, thanks to a proposal for a joint venture with the CBC for training returned soldiers and others as broadcasters. During the first organizational meeting in 1944, the CBC told Prof. William Angus of the Drama Department that CFRC would need recording and playback equipment and would have to upgrade the studio facilities for their Summer Radio Institute. In those days, instantaneous reference recordings (for airchecks and production) were cut with a stylus into a soft acetate material coating an aluminium or glass disc.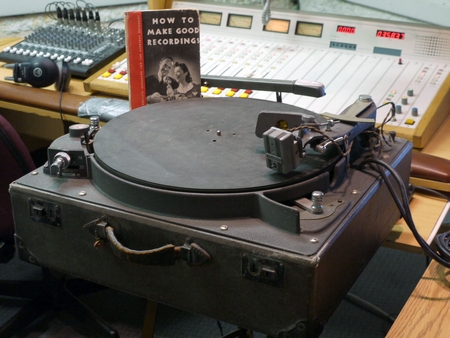 Presto Y-4 Acetate Cutter
Dr. W.E McNeill placed the order for a Presto Y-4 Acetate Cutter in April, 1945, but the purchase had to be approved by the War Production Board in Washington, D.C., and the recorder did not arrive until some time in December 1945. In the meantime, the CBC lent the Summer Radio Institute one of their Presto K-8 recorders, from the Quebec City studios. Several airchecks made at the various Summer Radio Institute sessions between 1945 and 1948 still exist. The Queen's Drama Guild also wanted to try broadcasting so, on October 31, 1945, they aired an adaptation by Prof. William Angus of Ellis Parker Butler's short story "Pigs Is Pigs", followed by many other radio dramas. Prof. Angus is seen in this February 1949 photo making notes on a Drama Guild script.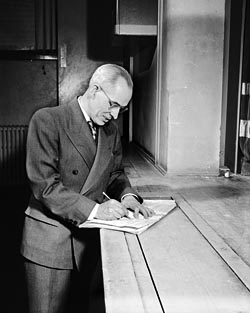 Prof. William Angus, 1949
(George Lilley fonds V25.5 8-157)
In this audio clip, Prof. Angus describes an early attempt at radio drama, which helped inspire the founding of the Queen's Summer Radio Institute.

Prof. William Angus describing early radio dramas, 1944
Some of the Queen's Drama Guild Radio Workshop scripts are available to read in the Queen's Archives. The pages below include the first page of a student-written drama entitled "Underground," and the script for the introduction of that broadcast.
Soon after the Summer Radio Institute was established, the Department of Electrical Engineering put the station on the air two to three nights a week during the school year. After the close call in 1942, CFRC was back.  With engineering students operating, the Drama Guild Radio Workshop began weekly broadcasts of plays, round-table discussions, recorded musical variety, a quiz show, news commentaries and even Queen's Glee Club.
Queen's Principal R.C. Wallace was recorded speaking on 19 July 1946 at the Queen's Summer Radio Institute, on "Radio: A Force for Good or Evil?".

Principal R.C. Wallace on "Radio: A Force for Good or Evil?" 19 July 1946
The Queen's Drama Guild secured an early tape recorder, a Brush "Sound Mirror", for use in their rehearsals and radio production. New turntables, sized to play large 16-inch transcription records, were also installed in the late 1940's, as seen in this photograph of an unidentified student operator.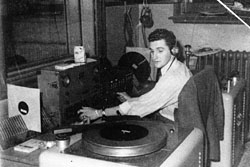 Student operator with new turntable, late 1940s
(Queen's Picture Collection, V28 O-CFRC-5)
---