After the station's post-Summer Radio Institute resurrection, CFRC entered a period of significant growth. In 1952, Queen's Radio received a donation of a new one kilowatt FM transmitter from Westinghouse Corporation, Pittsburgh, through its V.P. of Manufacturing, A.C Monteith (Elec. '23). In 1954, the FM station went on air at 91.9 MHz., simulcasting with CFRC-AM.
CFRC volunteers from both Engineering and Arts are seen at work in the mid 1950s in this series of photos taken by Ralfe Clench on both sides of the window between the control room and studio, on the second floor of Fleming Hall.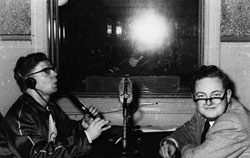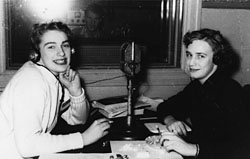 CFRC programmers and volunteers at work in the mid to late '50s (Ralfe Clench fonds 5064.7-1-7)
The CFRC crest on Bob Sanderson's Arts jacket (lower left photo above, with Ralfe Clench) is seen in this 2012 photo.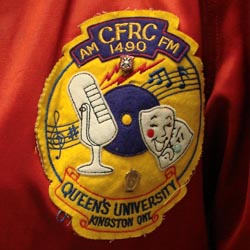 CFRC Jacket Patch (Courtesy Bob Sanderson)
Hugh Lightbody (Sci '57) describes an example of the rivalry between engineering students and the members of the Drama Guild, who both produced CFRC programming in the 1950's, in this excerpt from the Queen's Radio Oral History Project.
Hugh Lightbody on the rivalry between Engineers and the Drama Guild in the 1950s
CFRC alumnus Lou Tepper describes Queen's Drama Guild programming in the early 1950's, including an awkward interview with football coach Frank Tindall.
Lou Tepper on Drama Guild programming in the 1950s
Perhaps the only surviving colour photo of the studio in Fleming Hall is this picture of Bob Black (Arts '59) rehearsing a script.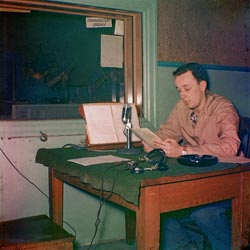 Bob Black rehearsing a script
Alumnus (and later Professor) Sid Penstone recalls CFRC disc jockey Dan McRae, and a hoax inspired by "War of the Worlds" in the early 1950's, in this audio clip.
Sid Penstone on hoax by CFRC DJ Dan McRae in 1953
John Bermingham describes the humour and the sound effects involved in live dramatic programming by the Drama Guild's Radio Workshop.
John Bermingham on sound effects for radio plays
There were more advancements and additions inside the station. CFRC acquired its first Magnecord PT6 in 1954 for $500, according to this memo apparently written by Margaret Angus to Harold Stewart in 1962.  The Magnecord PT6 was an early dual-speed, broadcast-quality, portable (42 pounds!) reel-to-reel tape recorder, manufactured in Chicago starting in 1948. These machines were widely used in radio stations during the 1950s and 60s.  The station eventually had several Magnecorders, including this portable unit.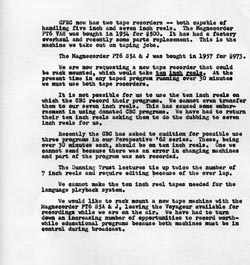 CFRC Memo, 1962 (CFRC Radio Station fonds)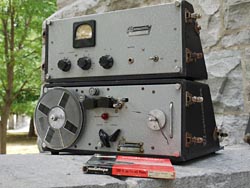 Magnecorder PT6V, photographed 2012
Margaret Angus remembers in this clip from the Queen's Radio Oral History Project how she convinced Queen's to keep the heat on in Fleming Hall for weekend programming.
Margaret Angus on heating Fleming Hall in 1957
The station soon relocated from Fleming Hall to new studios built a few steps away in the basement of Carruthers Hall.  The students then formed the CFRC Student Radio Club.  By 1958, under the supervision of Margaret Angus, the club grew from fewer than forty student broadcasters to over a hundred. Hours on the air grew from 33 hours to 36.5 hours a week for the twenty weeks of the school year.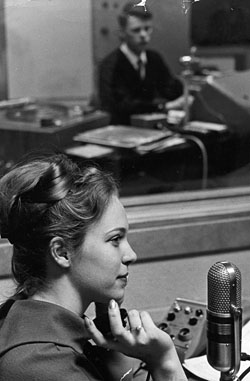 Volunteer with RCA 77DX ribbon microphone
(Queen's Picture Collection V28 O-CFRC-6)
The RCA 77DX ribbon microphone had been launched in the 1940s.  This microphone, known as the "bombshell" for its characteristic capsule shape, became an in-studio standard, not only at CFRC radio but across North America. 
At this time, operators also began using the new Northern Electric control board, which stayed in use for the next thirty years. The control board was used to mix various input channels, such as microphones, tape recorders and record turntables.  A smaller version of the Northern Electric mixer was used for sports broadcasts, along with a telephone interface box built at Queen's. These items were displayed at the Campus Bookstore during CFRC's 90th Anniversary celebrations in 2012.   Football playoffs from as far away as Winnipeg, and received by telephone line, were announced by stalwarts like Jeffrey Simpson, who could maintain his patter even through long game delays. CFRC still holds up the tradition of broadcasting all of Queen's Gaels football games every year.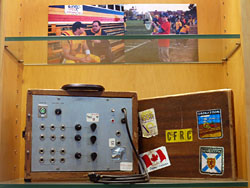 Clockwise (from left): Northern Electric board,
Northern Electric mic mixer for sports broadcasts, Sports phone box
In 1961, CFRC changed its AM frequency from 1240 to 1490 kHz, after receiving a retired AM transmitter donated by Terry and John French of radio station CKLC, Kingston.  Student participation at the station continued to increase throughout the decade, with the Student Radio Club reaching 150 members by 1969. This photo from Tricolor 1968 shows a group of volunteers including Helen Cooper (right), probably during the production of the long-running current affairs program "CFRC Magazine."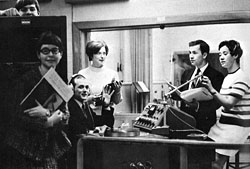 Student volunteers in Master Control (Tricolor, 1968)
In this audio clip, Michael Woogh (Arts '69, Law '73) describes some of the excitement of working to a deadline, in the production of "CFRC Magazine."
Michael Woogh on production of CFRC Magazine
CFRC alumnus Michael Woogh also recounts a classic anecdote about the legendary figure in the Queen's faculty and administration (and former CFRC member) Ralfe Clench. 
Michael Woogh anecdote about Ralfe Clench 1968
On January 10th 1968, Queen's graduate Andrew Marshall succeeded Margaret Angus as Station Manager, and sought changes to the station's operations. In a report prepared for the administration, he argued for increased broadcast hours and inclusion of rock and pop music. By the end of the decade, these plans became reality.  He also received a commitment from then Principal John Deutsch to spend $50,000 upgrading the station's equipment, including new record turntables to protect the large library of stereo classical music LP's, in anticipation of stereo broadcasting in the near future.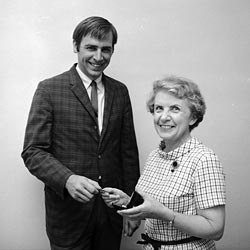 Andrew Marshall and Margaret Angus, 1968
(Wallace Berry fonds V102-2-1039)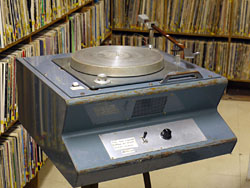 McCurdy turntable, photographed 2012
---